Drivers of the Acura MDX should be aware of all the different Acura MDX dashboard warning lights and symbols that may appear in their vehicles. Knowing what each sign indicates can help them stay safe on the road and diagnose and solve problems before they become costly repairs.
This blog post will provide a comprehensive list of all warning lights and symbols for the Acura MDX, along with explanations regarding what each one means and how to react if any issues arise from them. Through this article, drivers are sure to understand their vehicles better and recognize potential problems before they worsen.
🎯Suggested article: Acura Mdx Years To Avoid
Is Acura Mdx a Reliable Car?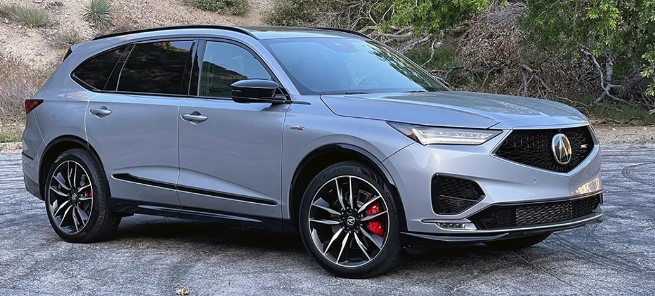 The Acura MDX is a reliable car that has been on the market for more than two decades, making it an attractive option for drivers. Its 3.5 liter V6 engine delivers up to 290 horsepower, enabling excellent performance in any driving situation. The vehicle also earns high marks from owners as it boasts a 90% satisfaction rate thanks to its dependable operation and impressive features. Inside the cabin, occupants are kept safe with advanced safety technology such as lane-keeping assist, blind spot monitoring, and adaptive cruise control.
Additionally, the standard all-wheel-drive system found in the MDX further improves comfort during rides. All these attributes make owning the Acura MDX a worry-free experience that can be relied upon for many years of motoring pleasure.
📢Read also: Acura Mdx All Warning Lights On
Acura Mdx Dashboard Warning Lights and Color Descriptions
The Acura MDX car has a range of warning lights that can warn drivers about important system issues. These lights come in various colors, each indicating something different.
Red lights indicate an emergency and must be addressed immediately, whereas yellow or orange lights signify less serious issues but still require attention to ensure the vehicle runs properly.
On the other hand, green and blue colored lights usually denote that systems are functioning optimally and there's no need for immediate action.
Understanding these colors and their associated meanings helps owners keep their Acura MDX running smoothly for many years by addressing maintenance needs promptly.
 Key articles: GMC Yukon Dashboard Warning Lights And Symbols
Acura Mdx Seat Belt Reminder Warning Light

When the Acura MDX is started, the seat belt reminder warning light will illuminate the dashboard. This light should remain illuminated until all occupants have fastened their seat belts. If it remains lit after everyone has been secured, this indicates a potential malfunction with the seat belt system and should be checked by a qualified technician as soon as possible.

Acura Mdx Speed Control Fault Warning Light

If the speed control fault warning light comes on, it is an indication that there may be an issue with the speed control system. This could seriously impact the driver's ability to maintain and control the vehicle's speed, so it is important to seek professional help from a certified technician as soon as possible to address this potential problem.

Acura Mdx Service Adaptive Cruise Control Warning Light

The Acura MDX is equipped with a service adaptive cruise control warning light to alert drivers of any issues within the vehicle's adaptive cruise control system. If this warning light comes on, it is highly recommended that the vehicle be taken to an authorized Acura dealer for professional diagnosis and repair. Doing so will help ensure that the system remains functioning properly without interruption or delay in performance.

Acura Mdx Service Electric Parking Warning Light

The Acura MDX service electric parking warning light is a dashboard warning light that indicates when the vehicle's electric parking brake is not engaged. If this light illuminates, it suggests that the car may roll away if not parked correctly, which can result in serious safety issues. Therefore, drivers should always ensure their vehicles' electric parking brakes are properly engaged before driving.

Acura Mdx Power Steering Fault Warning Light

If the power steering fault warning light appears on an Acura MDX's dashboard, it indicates a problem with the power steering system. The hydraulic fluid used in this system helps turn the wheels, and if there is a leak or low fluid level, the system cannot perform properly. This can make it difficult to steer, and damage could occur to the pump. To prevent further injury or difficulty driving, it is highly recommended that a qualified mechanic inspects and diagnoses any issue with the power steering system as soon as possible.

Acura Mdx High Beams Warning Light

If the high beam warning light is illuminated on an Acura MDX's dashboard, it indicates that the vehicle's high beams are currently in use. This serves as a visual reminder to the driver to be cautious when using these headlights and not blind other drivers on the road. It also ensures that they remain alert while driving with this feature activated.

Acura Mdx Sound System Warning Light

If the sound system warning light appears on the dashboard of an Acura MDX, it indicates a problem with the car's audio system. This could range from a blown fuse to a damaged speaker. If this warning light is noticed, it is advised to refer to the owner's manual for further information and troubleshooting advice. Depending on the issue, some problems can be fixed by oneself, while more serious cases may require professional assistance at a repair shop or mechanic.

Acura Mdx Particulate Filter Malfunction Light

The Acura MDX dashboard's particulate filter malfunction light is a sign that indicates an issue with the vehicle's exhaust control system. The particulate filter captures and reduces hazardous particles in the gas before they enter the atmosphere. If this light appears, the particulate filter is malfunctioning and must be serviced. Depending on the serious problem, this light could be a warning or an error code. To ensure the safe operation of your vehicle, it is important to take your car to an authorized Acura dealership or service center at once for diagnosis and repair if you see this light come on.

Acura Mdx Brake Warning Light

Acura MDXs are equipped with a brake warning light on the dashboard, which illuminates when there is an issue with the vehicle's brakes. A qualified technician must check the brakes when this light comes on as soon as possible due to various potential causes, such as low brake fluid or a malfunctioning brake system. The technician will then be able to diagnose and repair any issues accurately.

Acura Mdx Swing Gate Reminder Warning Light

The Acura MDX Swing Gate Reminder Warning Light is an important safety feature of the vehicle that helps ensure passenger safety and prevents any potential damage. This warning light will remind drivers to close the back hatch door before driving away. This can be a great way to avoid accidentally leaving something behind in haste and check for items left inside the trunk before locking it up – taking extra precautions while on the road with family members ensures everyone's safety and security during their journey.

Acura Mdx System Message Indicator Warning Light

The Acura MDX has a system message indicator warning light on the dashboard. If this light comes on, it indicates a potential issue with the vehicle's electrical system and should be addressed promptly. It is recommended that owners take their car to a qualified mechanic for diagnosis and repair to avoid any further damage or costly repairs.

Acura Mdx Tire Pressure Monitoring System(tpms) Warning Light

If the Acura MDX Tire Pressure Monitoring System (TPMS) Warning Light is illuminated on the dashboard, it indicates there may be an issue with the vehicle's tire pressure monitoring system. The first step is to check and ensure that all tires are properly inflated; if they're low, fill them up to their recommended pressure levels. If the light remains lit after this, it could mean a problem with TPMS itself and, thus should be taken to an Acura dealer or authorized service center for diagnosis and repair.

Acura Mdx Traction Off Warning Light

The Acura MDX Traction Off Warning Light is a dashboard indicator that signals when the vehicle's traction control system has been deactivated. The traction control system is an important safety feature designed to help keep the wheels from slipping in wet or icy conditions. If this warning light appears, the driver should be aware that their ability to maintain control of their vehicle on slippery roads may be compromised until the system has been re-engaged.

Acura Mdx Suspension System Warning Light

The Acura MDX suspension system warning light indicates a malfunction within the vehicle's suspension system. Drivers should be aware of this light and take their car to a mechanic if it appears, as issues with shocks, struts, or other components may arise. Ignoring this issue could lead to further damage or costly repairs later on, so promptly seeking professional assistance is best to avoid any problems.

Acura Mdx Vehicle Security Warning Light

If you notice the vehicle security warning light on your Acura MDX's dashboard, it indicates that the security system is not armed and your car is unprotected. This light will remain lit until the system is placed in an armed mode. Hold the lock button on your key fob for two seconds to arm the system. When properly activated, you should see a red LED light on your key fob blink twice to signal that the security features are active.

Acura Mdx Turn Signal Indicator Light

The Acura MDX dashboard features a turn signal indicator light, which indicates when the turn signals are in use. This light typically illuminates during the initial ignition process and will go out once the engine has been started. If it remains on after starting the engine, this may signify an issue with the turn signal system.

Acura Mdx Vehicle Ahead Indicator Light

The Acura MDX's vehicle ahead indicator light is a vital warning feature that alerts drivers when another vehicle is in front of them. This alert prompts the driver to take immediate evasive action, as it could indicate that the other vehicle has stopped suddenly or is about to make a turn. It should be taken seriously and responded to for all involved's safety.

Acura Mdx Keyless Entry Warning Light

The Acura MDX Keyless Entry Warning Light is a modern added convenience to this vehicle. Easily visible on the left side of the dashboard, it illuminates when you approach the car with your key in hand or pocket. If flashing, you need to replace the battery in the fob as soon as possible for optimal performance and security. This feature helps make driving more secure and convenient, making it an ideal choice for any driver who wants comprehensive protection and comfort while on the road.

Acura Mdx Low Fuel Warning Light

When operating an Acura MDX, drivers should know the Low Fuel Warning Light on the dashboard. This light is easily recognizable, appearing as a gas pump with an exclamation point in the middle. If this light illuminates, it indicates that fuel levels are low and refueling is necessary. Refueling timely helps to ensure optimal vehicle performance and safety.
What Problems Do Acura Mdx Have?
The Acura MDX is generally known for its reliable performance. However, it can suffer from certain issues. These range from transmission failure to engine stalling, brakes squealing and grinding, faulty dashboard lights, power steering fluid leakage, and malfunction of the window regulator. The AC compressor may fail prematurely due to improper maintenance or component wear. Additionally, electrical issues, such as faulty sensors, can cause problems with the car's overall performance. Regular maintenance should be carried out to ensure optimal vehicle performance over time to prevent potential future problems like those mentioned above.
Knowing the meanings of each Acura MDX dashboard warning lights and symbols is essential for any driver. Staying informed about what your vehicle's warning systems are telling you will allow you to be better prepared for any potential issues that may arise while driving. By taking a few moments to familiarize yourself with your vehicle, you can rest assured that your drive in the Acura MDX will be as safe and pleasant as possible.
FAQs About Acura Mdx
Is the Acura MDX a reliable car?
The Acura MDX earned an impressive above-average reliability score of 4.0 out of 5.0 from RepairPal, placing it second among luxury midsize SUVs in that category. This ranking considers repair and maintenance costs, where the average annual fee for the MDX is significantly lower than its counterparts at $571 compared to $807 across all luxury midsize SUVs.
Are new MDX worth it?
The 2024 Acura MDX is a great SUV option, providing many standard tech, comfort, and driver-assistance features. Its interior is well-appointed, with exceptionally comfortable front seats and enough space in the second row for adults to ride comfortably. All these factors make it an excellent choice for an outstanding SUV.
Is the Acura MDX a luxury SUV?
The Acura MDX offers a great combination of sporty handling, spacious interior, and a comfortable ride. It is one of the best choices available in the luxury three-row SUV segment for 2024. Additionally, it provides many features comparable to those found on rival SUVs but at an affordable price point.
How much is a fully loaded 2023 Acura MDX?
The higher trims come equipped with all-wheel drive as a standard feature. The cost of the most expensive edge before the Type S is $63,000, and the Type S itself starts at $67,350. An Advance package may be added for an additional fee, bringing it to $72,700.