The GMC Sierra 2500 is a full-size pickup truck that has been in production since 1999 and is one of the most popular vehicles on the market. This dependable vehicle does require occasional maintenance, however. To ensure it runs smoothly for years, it is important to understand what warning lights may appear on the dashboard during operation.
This article provides an overview of some common warning lights found on the GMC Sierra 2500 and their meanings and best practices for addressing them. With this knowledge, you can keep your vehicle functioning optimally while avoiding major problems.
📢Read also: Gmc Terrain Years To Avoid
Is the GMC Sierra 2500 a Reliable Car?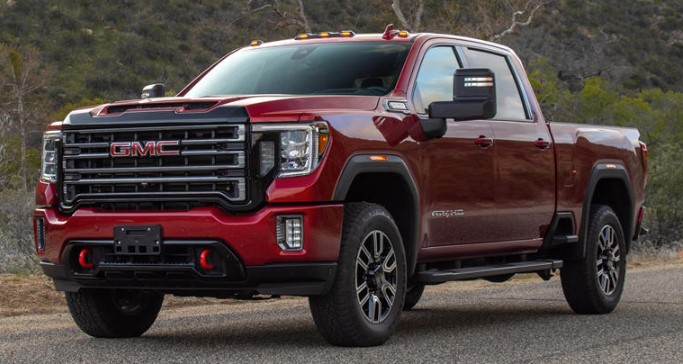 The GMC Sierra 2500 is a reliable and powerful car with plenty of features, comfort, and performance. Its strong V8 engine provides dependable power, while the comfortable seating makes for an enjoyable ride. With its great towing capacity, it's ideal for easily hauling large items.
The interior is spacious and well-equipped with the latest technological features, such as an 8-inch touchscreen infotainment system, Apple CarPlay & Android Auto compatibility, and 4G LTE Wi-Fi hotspot capability.
On the exterior, sleek LED running lights improve visibility in low-light conditions. Overall, the GMC Sierra 2500 is a dependable vehicle that will serve you well for many years.
 Further reading: Ram Promaster 3500 Dashboard Warning Lights
GMC Sierra 2500 Warning Lights and Color Descriptions
The GMC Sierra 2500 dashboard warning lights are designed to alert the driver of possible vehicle malfunctions, with varying colors indicating differing levels of severity.
Drivers need to be aware and familiarize themselves with the warning light system to respond appropriately if one is illuminated on their dashboard.
Red Warning Lights: Red warning lights indicate a possible significant issue with the vehicle. It is imperative to promptly have the car serviced by an experienced technician if a red light illuminates.
Amber Warning Lights: Amber warning lights may indicate a less serious issue with the vehicle but should still be addressed. Drivers who notice an amber light illuminated in their dashboard should consider having their car checked by a qualified mechanic as soon as possible to prevent further issues.
Yellow Warning Lights: Yellow warning lights signify a less pressing issue that does not necessitate immediate attention. Drivers can generally drive the vehicle briefly before taking it to an expert technician for inspection.
 Key articles: GMC Yukon Dashboard Warning Lights And Symbols
GMC Sierra 2500 Automatic Start-Stop Warning Light

The GMC Sierra 2500 is equipped with a sophisticated Automatic Start-stop system that shuts off the engine when the truck comes to a stop. At times, this system may be disabled due to low battery voltage, engine temperature, or if it has been manually switched off. When this happens, drivers will see an Auto Start-Stop Disable Light on their dashboard that looks like a car with a line through it.

If you're ever unsure why your Auto Start-Stop system is not working correctly, bringing your vehicle to a certified GMC dealer for diagnosis and repair is best. This way, you can ensure the system functions properly and keep your Sierra 2500 running smoothly in all driving conditions.

GMC Sierra 2500 Engine Oil Pressure Warning Light

The GMC Sierra's engine oil pressure warning light being on indicates insufficient oil pressure in the engine. This could be due to various causes, such as clogged filters, worn-out seals and gaskets, low fluid levels, or a defective pump.

Low oil level: If the oil levels of a Sierra are low, it could lead to insufficient pressure to lubricate its engine adequately.
Dirty oil: If the oil in your Sierra is dirty, it can cause an inability to lubricate the engine's components properly.
Faulty oil pump: Sierra owners should know that if it is not working correctly, it may not create enough pressure to lubricate the engine effectively.
Blockages in the oil system: If any blockages are present in the oil system of a Sierra, it may affect its ability to circulate the oil and maintain adequate pressure properly.

The GMC Sierra's engine oil pressure warning light is an important indicator of the vehicle's performance. It is necessary to take immediate action when this light comes on, including checking the oil level and quality, replacing the filter, or flushing the system if needed.

GMC Sierra 2500 Electronic Stability Control Active Warning Light

If the electronic stability control (ESC) active warning light illuminates on a GMC Sierra 2500, the ESC system is not functioning properly. This could be caused by an issue with the ESC sensors or the entire system. In this instance, it would be wise to take your Sierra to a GMC dealer or qualified repair shop for further evaluation and appropriate repairs.

GMC Sierra 2500 Forward Collision (FCW) Warning Light

When driving a GMC Sierra 2500, it is important to know about the Forward Collision Warning (FCW) system. This system uses sensors to detect potential collisions and will alert the driver when one is detected. When the FCW light illuminates the dashboard, drivers should take note and pay attention to their surroundings to avoid any possible collision. Taking action quickly can help prevent an accident from occurring.

GMC Sierra 2500 Electric Parking Brake Warning Light

If the electric parking brake warning light is observed on a GMC Sierra 2500, this indicates that there may be an issue with the vehicle's electric parking brake system. This could signify a problem with the parking brake or its electronic control module. To ensure the proper functioning of the truck and avoid potential damages, it is recommended to take your GMC Sierra 2500 to a qualified GMC dealership or mechanic for inspection and further diagnosis as soon as possible.

GMC Sierra 2500 Battery Charge Warning Light

The GMC Sierra 2500 is equipped with various warning lights and symbols to ensure the driver is informed about the status of their vehicle. One such symbol is the battery charge warning light, which activates when the battery's power levels run low. This indicates drivers to take action to avoid being stranded due to a dead battery.

There are a few things you can do to extend the life of your battery and prevent the charge warning light from coming on:

Drivers should keep their vehicle's engine running when utilizing accessories such as the heater or air conditioner to preserve the charging of the battery by the alternator.
To reduce strain on a vehicle battery, drivers should avoid taking short trips that do not allow for adequate warm-up time of an engine.
Additionally, drivers should ensure all lights and electrical accessories are turned off when not in use, as leaving them on can lead to the depletion of power from a battery.

If you do find yourself with a dead battery, there are a few ways to jump-start it:

Individuals can use jumper cables to connect their dead battery to another vehicle's live battery, ensuring both cars are turned off.
Another option is to purchase a portable jump starter kit from an auto parts store; these kits include instructions for proper and safe usage.

GMC Sierra 2500 Oil Temperature Warning Light

If the oil temperature warning light of a GMC Sierra is illuminated, it indicates that the engine's oil is too hot. This could be due to an overheated engine, a low oil level, or a blocked oil cooler. Pulling over and shutting off the vehicle immediately is important to prevent further damage. Once cooled, inspect the oil level and top up if needed. Suppose the warning light remains on after replenishing or any other unusual symptoms are observed. In that case, it is advised that you have your vehicle towed by a professional mechanic for further diagnosis.

GMC Sierra 2500 Sound System Warning Light

Owning a GMC Sierra 2500 comes with many privileges, including enjoying the sound system in the vehicle. Unfortunately, if you experience a warning light illuminating your dash related to your audio system, this could indicate an issue requiring attention.

It is important to take steps towards troubleshooting the issue to resolve it quickly and safely. One possible reason for the warning light may be as simple as turning off accidentally when attempting to adjust volume levels; press and hold down the power button for two seconds to turn it back on.

Additionally, if any strange noises or interference seems to come from speakers, this could indicate wiring issues or speaker malfunctions; check connections are secure and test by playing music through them.

Suppose neither of these solutions resolves the problem at hand. In that case, bringing your vehicle to a certified dealership or mechanic who can further diagnose and perform necessary repairs may be required. Taking care of any potential problems relating to your audio system will help keep you safe while driving and ensure all features work properly.

GMC Sierra 2500 Brake Warning Light

The GMC Sierra 2500 brake warning light should be taken seriously. If you see this indicator illuminated on your dashboard, it means there is an issue with the braking system that needs to be addressed as soon as possible. It could be something simple like a reduced fluid level or a more serious problem such as damaged brake pads or calipers. Therefore, if you notice the warning light for your brakes turn on, you must take your vehicle to a qualified mechanic for professional diagnosis and repair.

GMC Sierra 2500 Air Bag Warning Light

The GMC Sierra 2500 is outfitted with an airbag warning light that will illuminate if there is a problem with the airbag system. This alert serves as a reminder to drivers of the potential safety hazard posed by malfunctioning airbags, which may not deploy in the event of a crash.

If your Sierra 2500's airbag warning light comes on, it could indicate an issue with the sensing and diagnostic module (SDM). The SDM oversees all aspects of deployment for the vehicle's airbags, including when they are triggered in the case of an accident. As such, any problems with this component can lead to malfunctions or complete failure to deploy during accidents – thus putting drivers at risk. It's important to have your car serviced immediately if you see this warning light illuminated or suspect any issues with your SDM.

There are a few things that can cause this problem:

The SDM may have loose or damaged connections.
The SDM may be improperly installed.
The SDM may be defective.

If the airbag warning light in your Sierra 2500 illuminates, it is advised to take it to a qualified mechanic promptly to diagnose and repair the issue.

GMC Sierra 2500 Speed Control Fault Warning Light

The GMC Sierra 2500 is equipped with a Speed Control Fault Warning Light to alert drivers when there is an issue with the speed control system. If this light illuminates, it means that the speed control system of the vehicle is not functioning correctly and must be taken in for repair or diagnosis at a dealership or service center. Drivers should refrain from using their car's speed control until they receive professional assistance.

GMC Sierra 2500 Engine Check Warning Light

The GMC Sierra 2500 engine checks warning light signals that there may be an issue with the vehicle's engine. If the light is flashing, it indicates a more urgent problem and should be addressed by a mechanic immediately. However, if the light is solid, it could mean something less serious, such as a loose or missing gas cap. Other potential causes of the warning light include low oil level, dirty air filter, or malfunctioning mass airflow sensor.

When diagnosing why your GMC Sierra 2500 engine check warning light has come on, it's important to consider all possible causes before making any assumptions about what may need to be fixed. Sometimes, simply tightening up the gas cap can solve the issue; however, for other components like oxygen and mass airflow sensors, you should have an experienced mechanic look at your vehicle for proper diagnosis.

It's always best to err on the side of caution when dealing with any potential issues related to your vehicle's engine health, so if you're unsure what caused your GMC Sierra 2500 engine check warning light to come on, then make sure to schedule an appointment with a qualified professional as soon as possible to get back out safely on the road again.

GMC Sierra 2500 Power Steering Fault Warning Light

If the power steering fault warning light illuminates on a GMC Sierra 2500, it indicates an issue with the power steering system. Potential causes for this could include low fluid levels, faulty pumps, or problems with the power steering belt. If this light comes on, a qualified mechanic should be consulted as soon as possible to diagnose and repair whatever issue has arisen.

GMC Sierra 2500 Transmission Temperature Warning Light

The GMC Sierra 2500 has a transmission temperature warning light that alerts drivers when the fluid has exceeded safe limits. When this light comes on, it's important to take action immediately to prevent damage to the transmission. A driver should first turn off the engine and pull over to a safe location.

Once stopped, drivers must check their transmission fluid level and add more if necessary. If there appears to be a leak in the system, the car needs professional attention from an authorized dealership or service station; therefore, you must have your vehicle towed before further damage occurs. On the other hand, if there is enough fluid in the reservoir, you can drive slowly towards help without shifting gears or speeding up fast.

In conclusion, when you see your GMC Sierra 2500's transmission temperature warning light illuminated, your fluid levels are too hot. Immediate action must be taken for any potential damages to be prevented. Pulling over safely and checking out your vehicle should always be done before continuing any journey, especially when dealing with potentially costly repairs due to its importance!

GMC Sierra 2500 Lane Departure Warning Light

The lane departure warning light indicates that the GMC Sierra 2500 features a Lane Keep Assist system. This system utilizes a camera to detect when the truck has veered out of its lane and automatically steer it back into place. This feature allows drivers to remain in full control while enjoying enhanced safety and comfort on the road. Drivers need to know that when this system is active, they will see the light as an indicator.

GMC Sierra 2500 Low Washer Fluid Warning Light

If the Low Washer Fluid Warning Light is illuminated on a GMC Sierra 2500, the reservoir has insufficient washer fluid. To ensure safe driving conditions, adding more washer fluid as soon as possible is important.

If the light appears while driving, one should stop and fill up the reservoir before continuing their journey. Depending on how much of the liquid remains, a driver may be able to travel for a short distance without adding any more.

Keeping adequate washer fluid in your vehicle can help you maintain clear visibility while behind the wheel, which is essential for safety purposes.

GMC Sierra 2500 Abs Warning Light

If the ABS warning light appears on a GMC Sierra 2500, it indicates an issue with the anti-lock braking system. Possible causes of this problem may include a faulty sensor, low brake fluid levels, or an ABS pump malfunction. To ensure the safe and proper operation of the brakes, a qualified technician must promptly inspect any such difficulties.

GMC Sierra 2500 TPMS Warning Light

If the TPMS warning light is illuminated on a GMC Sierra 2500, one or more of the tires may be low on air and require immediate attention. In these cases, drivers should stop to inspect their tires as soon as possible.

Additionally, if there is an accompanying message displayed on the vehicle's screen, this indicates that there may be a problem with the system itself and should also be serviced immediately.

On the other hand, if no message appears and only the TPMS warning light is lit up, then it is likely that everything else is in working order, but one or more of your tires are still too low in terms of pressure.

GMC Sierra 2500 Traction Off Warning Light

The Traction Off Warning Light in a GMC Sierra 2500 indicates that the truck's traction control system has been turned off. It is important to pay attention to any other warning lights that may have come on, as this could indicate an issue with one of the sensors or low fluid levels in the traction control system. Additionally, if a check engine light accompanies the light, there might be a problem with the electronic stability control system. For further guidance and repairs, owners should consult their owner's manual or take their vehicle to a qualified mechanic for diagnosis.
What problems does the GMC Sierra 2500 Have?
The GMC Sierra 2500 is a powerful and reliable truck with its share of issues. The most common issue owners report is the transmission, which can slip or jerk when shifting gears and may even fail altogether. Other problems reported include engine stalling or hesitating, brakes not working properly, and electrical system malfunctions. Owners should know these potential issues before purchasing a GMC Sierra 2500.
The GMC Sierra 2500 dashboard warning lights and symbols are designed to provide drivers with an indication when something is wrong with their vehicle. By familiarizing themselves with these warnings and taking the appropriate action, owners of the GMC Sierra 2500 can ensure that their car remains in optimal condition for many years. If a light appears on the dashboard and its meaning is unclear, this article provides helpful information about identifying it and finding out how to resolve any issue.
FAQs About GMC Sierra 2500
What is the starting price for a 2024 GMC 2500HD Duramax?
The starting price for the 2024 GMC Sierra HD is $44,400 for the base 2500 Pro model. The SLE variant introduces features such as an enhanced infotainment system and a standard MultiPro tailgate, with the rugged AT4 variant beginning at $60,500 and the high-end Denali variant at $73,200.
Which is superior, the Ram 2500 or the GMC 2500?
In terms of lower pricing range for one- to five-year-old used vehicles, reliability, and base engine power, the Ram 2500 holds superiority. Based on the comparative specifications and ratings between the GMC Sierra 2500HD and the Ram 2500, the latter emerges as the superior vehicle.
Is the Sierra 2500HD a reliable truck?
Indeed, the Sierra 2500HD is renowned for its remarkable capabilities as a heavy-duty truck. It boasts a spacious cabin accommodating passengers and cargo effortlessly, and its hauling and towing capacities are commendable, aligning with expectations for trucks in its class. The available MultiPro tailgate enhances the ease of loading items.
Can you differentiate between the Sierra 2500 and 3500?
When adequately equipped, the 2022 GMC Sierra Denali 2500HD can tow maximum loads of 18,500 pounds and handle payloads up to 4,809 pounds. For those requiring additional power, the 2022 GMC Sierra 3500HD can pull up to 20,000 pounds when properly equipped.