Harley-Davidson is a name synonymous with motorcycles. Established in 1903, the company has become an iconic symbol of motorcycling culture. It's Ironhead Vs. Shovelhead models are some of the most sought-after by classic bike enthusiasts.
Rebuilding a vintage Sportster engine requires specialized skills and tools not always available to amateur bikers. Deciding which model and parts are best for one's needs can be challenging, so research before investing time or money into a rebuild project and for those new to rebuilding engines from either generation, understanding the differences between Harley Ironhead Vs. Shovelheads can help decide what will work best for their beloved bikes.
Harley Ironhead Vs. Shovelhead: In Short Comparison
The Ironhead engine is characterized by its two-piece rocker boxes, while the Shovelhead has one-piece rocker boxes. The Ironhead's valve train also utilizes a pushrod and lifter system, whereas the Shovelhead uses an overhead valve design.
| | |
| --- | --- |
|  Ironhead | Shovelhead |
| Displacement:- 883.0 cm (53.88 cubic inches) | Had 1340cc (82 cubic inches) |
| Power:- 40.0 HP (29.2 kW)) & 5500 RPM |  Maximum 66 horsepower at 5,600 RPM |
| Engine type:- V2, four-stroke | V-twin engine, which came with 74-cu |
| Top speed:- 152.9 km/h (95.0 mph) | 105.6 mph |
| Compression:- 7.0:1 |  7.4: 1 |
| Fuel system:- Carburettor | Carburetor |
| Fuel control:  Overhead Valves (OHV) | Overhead Valves (OHV) |
| Cooling system:- Air | It had only ten fins for cooling |
| Gearbox:- 4-speed | 5-speed |
| Torque:- 50-60 ft-lb | 94 lb.-ft. |
| Transmission type/ final drive:- Chain | Belt |
Harley Ironhead Vs. Shovelhead: Overview Of The Entire Engine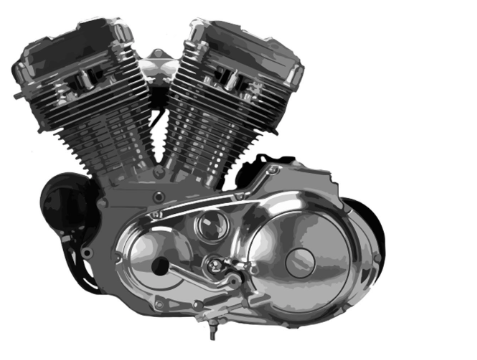 Individuals beginning their motorcycle journey may be unfamiliar with the differences between an Ironhead and a Shovelhead engine. A comprehensive overview of the two machines is provided below for clarification.
Specifications
The Ironhead motorcycle engine was manufactured by Harley-Davidson from 1957 until 1985 and replaced with the Evolution engine in 1986. It got its name from its cylinder heads, made of iron instead of aluminum like other Harley Davidson motors. Its four-stroke feature included 45° V-Twin OHVs with two valves per cylinder and had a capacity of 997 cubic centimeters/60.8 cubic inches, 81 mm bore x 96 mm stroke, air-cooled cooling system.
In 1980, shovelheads introduced an 80-inch long 1,310cc engine with a bore diameter of 3.498 inches and a stroke 4.25 (88.85mm x 107.95mm) inches at 8:1 or 7:4 compression ratio replacing the previous 1,200 cc model called FL discontinued in 1978 renamed as FLH ever since then.
Horsepower
The Harley-Davidson iron head delivers an impressive maximum power output of 57.00 horsepower (41.6 kW) at 6000 revolutions per minute, allowing riders to reach up to 185.0 km/h (115.0 mph) speeds. The chassis characteristics also affect the handling and comfort of the ride, providing an enhanced driving experience on the roads.
The engine in an 80-inch/FLH Shovelhead has been found to produce 66 horsepower at 5,600 rpm, with its peak power declining slightly between 1970 and 1984 models. Horsepower for 1978-80 models was recorded as 60 while 1981-84 models experienced a rise in performance to 65 hp accordingly.
Performance
Harley-Davidson's Sportster has been a fixture in the motorcycle industry since its introduction in 1957. It was the first to have an electric start when it was released as part of an update in 1967. In 1975, changes were made due to new regulations from the Department Of Transportation (DOT). The Sportster featured a 1200cc engine from 1986 and had a 5-speed gearbox by 1988.
The Shovelhead was Harley Davidson's third OHV V-Twin model introduced after the Knucklehead and Panhead models. When it hit production lines in 1958, it also transported features such as rear suspension, electric starting systems, which varied depending on prototype type, and other power improvements for better performance. The Duo Glide system, later renamed Electra Glide added electric starting shortly before the Shovelhead release date. From 1966 up until 1985, this model remained on shelves worldwide.
Harley-Davidson is well known for its commitment to continuous improvement across all its products. They proved that again with these two models, adding modernized updates while maintaining traditional aspects of the motorcycle's overall design that riders love so much about them today.
Special Features
The 2021 Harley-Davidson Sportster has been upgraded to deliver enhanced performance and style. The latest addition features larger brakes with an electrical harness and ABS compatibility to ensure a smooth ride. The Forty-Eight Special gives riders more control over their bikes with higher handlebars and added chrome on the engine, frame, wheels, exhaust system, LED lighting units on the face, and front and rear wheels measuring 17 inches in diameter for improved stability.
Harley also tweaked its classic V-twin engine by increasing the compression ratio from 6:1 to 8:1 or more, generating more heat and dropping 78.5 degrees on the Shovelhead valves for better performance. With these updates and the Revolution Max platform technology that powers it, this model will leave an impression on the road for years.
The new 2021 Sportster offers a unique combination of power output and modern technology fused into classic styling while still providing agility and torque demand when needed – perfect for experienced riders looking for a reliable motorcycle that stands out amongst other models available today.
Cost Comparison
The Harley-Davidson Ironhead engine is cost-effective for those seeking quality motorcycle parts. With prices starting as low as an MSRP of $6,195 and going up depending on color, specification, and location, Ironhead offers good value. Shovelhead engines provide an even more affordable choice, with prices beginning at just $3,495, including shipping.
Ironhead Vs. Shovelhead, Which One Better To Run?
Reliability is an essential factor when it comes to engine performance. Harley-Davidson's XL Evo engine has proven to be one of the most reliable engines ever produced, offering superior performance over its Ironhead and Shovelhead counterparts. While both offer great features that are sure to impress, customers can feel confident in their choice, knowing that they have a dependable engine at their disposal.
Last Word
This blog has discussed the differences between Harley Ironhead Vs. Shovelhead models. While it was possible to rebuild Ironhead Sportster engines, today's versions are not designed for this. It is safe to bore original Ironhead cylinders up to .060″ oversize, although modifications on Shovelheads were made to increase power on heavier bikes with rear suspension. Now that you have read about these two models, it's time to decide.