If you're like most drivers, you probably don't know what all the different symbols on your truck's dashboard mean. Don't worry – we're here to help! In this article, we'll review the meanings of some of the most common Isuzu truck dashboard warning lights symbols.
Isuzu Truck Warning Lights and Color Descriptions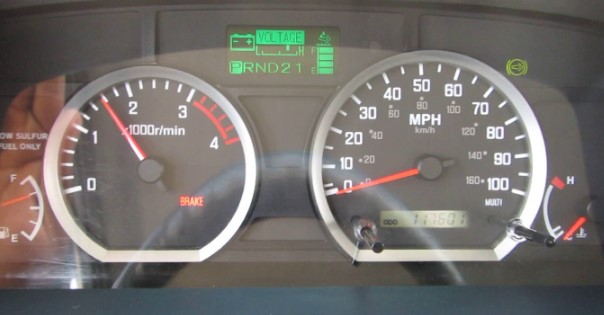 Most Isuzu trucks have a warning light system that alerts drivers to various issues. The system comprises different colored lights, each corresponding to a different issue. Here is a brief guide to the colors and their meanings:
Red: This color indicates a significant problem that needs to be addressed immediately. For example, if the engine light is red, it means there is an engine issue that could lead to further damage if not fixed right away.
Yellow/Amber: A yellow or amber light indicates a less severe problem that should be addressed relatively soon. For example, if the oil pressure light is yellow, it means there is an issue with the oil pressure in the engine that needs to be fixed before it leads to more severe problems.
Green:

Green lights are generally just informational, letting the driver know something is working as it should. For example, many trucks have a green "check engine" light that comes on when the engine is first started; this lets the driver know that the engine is working correctly.
See also: Isuzu NPR Exhaust System Warning Light
Isuzu Truck Electronic Stability Control Off Warning Light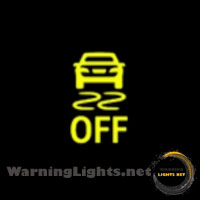 The truck's electronic stability control (ESC) system is designed to help the driver maintain vehicle control in hazardous driving conditions. The ESC Off warning light on the Isuzu truck's dashboard indicates that the system has been turned off and cannot assist the driver.
If you see this warning light, taking extra care when driving in slippery or unstable conditions is essential. Be sure to slow down and allow for greater stopping distances. If possible, avoid driving on slick roads altogether.
If you have questions about your Isuzu truck's ESC system or any other dashboard warning lights, consult your owner's manual or contact a qualified Isuzu technician.
Isuzu Truck Gearbox Clutch Warning Light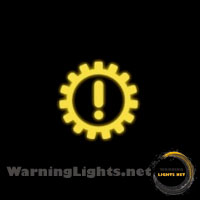 If your Isuzu truck's gearbox clutch warning light comes on, it's essential to take action immediately. This light indicates a problem with the truck's clutch system, and if left unaddressed, it could lead to severe damage.
If you see this light come on, it's best to pull over and shut off the engine. Once the engine is off, you must check the truck's manual to diagnose the problem. In most cases, you'll need to tow the truck to a service center for repairs.
Ignoring this warning light can be costly, so it's essential to take heed when you see it come on. Check your Isuzu truck's manual for more information on what to do when this warning light comes on.
Isuzu Truck Headlight On Indicator Warning Light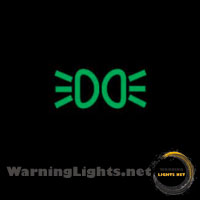 If you see the headlight on the indicator warning light illuminated on your Isuzu truck's dashboard, the headlights are turned on. This is just a reminder to turn them off when you don't need them so as not to drain the battery.
Isuzu Truck Hood Open Warning Light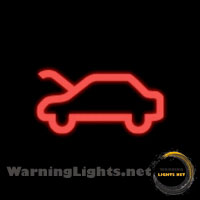 If you see the Isuzu truck hood open warning light on your dashboard, the vehicle's hood is not fully closed. This could be due to a loose or damaged latch, and addressing the issue as soon as possible is essential. An open hood can cause many problems, from decreased fuel efficiency to engine damage. So if you see this warning light, check your hood and ensure it's adequately latched before driving any further.
Isuzu Truck Immobilizer Warning Light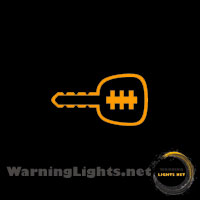 If your Isuzu truck has an immobilizer, you may see a warning light on the dashboard that looks like a car with a key. This light indicates that the immobilizer system is active and working to prevent the engine from starting. If you see this light, have your key fob to deactivate the system and start your truck.
Isuzu Truck Lane Departure Warning Light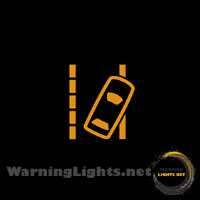 If you see a blue light on your Isuzu truck's dashboard, it indicates that the Lane Departure Warning System (LDWS) is active. The LDWS uses a camera to detect lane markings on the road and will provide a warning if it detects that the truck is about to stray from its lane. This feature can help prevent accidents, but it's important to note that it's not infallible and should not be relied upon entirely. If you see the LDWS light on, stay aware of your surroundings and use your best judgment when driving.
Isuzu Truck Loose Fuel Filler Cap Warning Light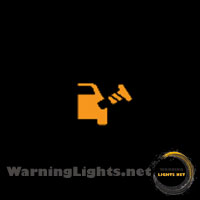 If your Isuzu truck has a loose or missing fuel filler cap, the truck's onboard computer will trigger the loose fuel filler cap warning light. This safety feature is designed to remind you to properly secure the fuel filler cap before driving. If you see this warning light, check the fuel filler cap and tighten it before continuing your journey.
Isuzu Truck Low Oil Pressure Light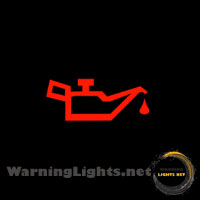 If the Isuzu truck's low oil pressure light comes on while you're driving, the engine oil pressure is low. Several things, such as a leak in the oil system, an oil pump failure, or a blockage in the oil filter, can cause this. If this happens, you should pull over and shut off the engine as soon as possible to prevent damage to the engine.
Isuzu Truck Oil Temperature Warning Light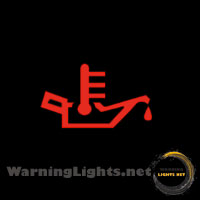 If the Isuzu truck's oil temperature warning light comes on, it means that the truck's engine oil is too hot. This could be due to several reasons, such as the truck being driven at high speeds for an extended period, or the ambient temperature being too hot. If this light comes on, pulling over and letting the truck's engine cool down before continuing to drive is essential.
See also: Nissan Intelligent Key Warning Light Stays On
We hope this article on Isuzu truck dashboard warning lights symbols has helped you decipher what those strange symbols on your dash mean. If you are ever in doubt, it is best to consult your owner's manual or take your vehicle to a qualified mechanic to have them check it out. Keep safe on the roads, and watch those dashboard lights!
FAQs About Isuzu Truck Dashboard Warning Lights Symbols
Is Isuzu a good truck?
Isuzu trucks are built to be the industry's highest quality, most reliable trucks, backed up by warranties and maintenance programs.
Is Isuzu from Toyota?
It is best described as an independent business venture, rather than a subsidiary of another company. However, Isuzu has worked with many manufacturers, including GM, Toyota, and Subaru.
Who makes Isuzu trucks?
(ICTA) is the North American subsidiary of Isuzu Motors, headquartered in Anaheim, California. Since 1986, Isuzu commercial trucks have been America's top-selling low-cab forward trucks.
Is Isuzu Japanese or Chinese?
China and Japan implemented joint operations to deepen cooperation in technology, management, market, capital, etc. In 2005, Isuzu Corporation of Japan increased its capital and shares in Qingling Motor Co., Ltd.
What is the engine warning light on an Isuzu truck?
The warning light is a visual signal to alert the driver of any engine issues. Depending on the vehicle, it may be presented in two colors – yellow signifying minor problems, and red, indicating more serious ones. Taking prompt action when this light appears is recommended for ensuring proper maintenance and issue resolution.
What is the gear with the exclamation point light on Isuzu?
This warning is represented by a gear with an exclamation point in the middle of it. When illuminated, it indicates an issue with the transmission and requires inspection for proper diagnosis and repair. It is essential to have this light checked out as soon as possible so that any potential issues can be caught early and resolved quickly.
What does a transmission warning light look like?
Whether red or yellow, this transmission warning symbol indicates the car's transmission is overheating. If illuminated, it should be taken seriously, and immediate action should be taken to stop the vehicle when safe. It is advisable not to keep driving with this light on as it could result in further damage.
What is the ASR warning light on my Isuzu?
The ASR warning light will illuminate when the system is commanded to be inactive, either through an override or if there is a malfunction. When this occurs while in motion, it does not signify the presence of diagnostic trouble codes. Instead, it indicates that traction control may be compromised at that time.