JCB loader dashboard warning lights indicate different things. Here is a guide to what each symbol means to know what's going on with your machine.
What do the JCB Loader Dashboard Warning Lights Mean?
The JCB Loader Dashboard Warning Lights are designed to give the operator a visual indication of the machine's status. There are three main types of warning lights:
Red Warning Lights: These indicate a potentially serious issue that could lead to machine damage or operator injury. If a red warning light comes on, the operator should immediately stop the machine and investigate the cause.
Amber Warning Lights: These indicate a less serious issue that could reduce performance or efficiency. If an amber warning light comes on, the operator should investigate the cause and take appropriate action immediately.
Green Warning Lights indicate that a system or component is active or functioning properly. Green warning lights are not typically cause for concern unless accompanied by another color warning light.
See also: JLG Boom Lift Warning Lights
How to Fix Problems JCB Loader Warning Lights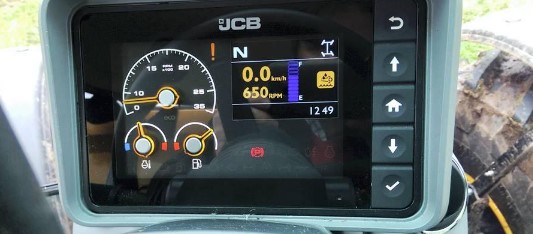 JCB loaders are built tough, but even the most durable machines can experience issues from time to time. When a problem arises, it's important to address it quickly to avoid further damage.
Read also: Jlg Scissor Lift Warning Light Flashing
One way to stay on top of potential issues is to monitor your loader's dashboard warning lights. These lights are designed to notify you of any problems that need attention, so it's important to know what they mean and how to fix them.
If you're seeing a warning light on your JCB loader's dashboard, here's what you need to do:
Check the Owner's Manual – The first step is to consult the owner's manual. This will give you specific information about the meaning of the warning light and what needs to be done to fix the problem.
Call a JCB Service Technician – If you're still unsure what the warning light means or how to fix the problem, it's best to call a JCB service technician for help. They can diagnose the issue and get your machine back up and running quickly.
🎯Suggested article: Alfa Romeo Giulietta Dashboard Warning Lights
Most Common JCB Loader Dash Warning Lights and Symbols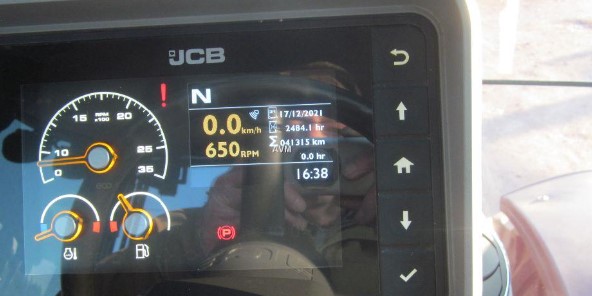 JCB Loader Warning Lights are important and can help you avoid costly repairs. Here is a list of the most common warning lights and their meaning.
Recommended article: JLg Warning Light Troubleshooting Guide
If you see the red oil can light, your engine oil level is low, and you must add more. If the light is flashing, your oil pressure is too low, and you need to stop immediately and check your engine.
The yellow exclamation point light indicates a general warning. This could be anything from a loose fuel cap to a brake problem. If this light comes on, it's important to check your owner's manual to see the specific problem.
The red Coolant Level Low light means just that – your coolant level is low and needs to be topped off. This is usually not a major problem, but if the light is flashing, your engine is overheating, and you should pull over as soon as possible to avoid serious damage.
The Glow Plug Light comes on when you start your engine and goes off once the engine has warmed up. If it stays on after starting or comes on while driving, it means there is a problem with your glow plugs, and you should have them checked by a mechanic as soon as possible.
JCB loaders have warning lights that notify the operator of potential issues. Knowing what each warning light means is important to avoid any potential problems. This guide provides an overview of the different JCB loader dashboard warning lights, symbols, and meanings. By familiarizing yourself with these symbols, you can ensure that your JCB loader always operates safely and efficiently.
See also: Kenworth Warning Light
FAQs About JCB Loader
What is a JCB loader?
JCB Backhoe Loaders are the perfect machines for any job site, providing optimal performance and versatility. They feature a powerful combination of trenching, excavating, loading, lifting, and material handling capabilities, making them an ideal choice for various tasks. With easy maintenance and simple operation, these machines are efficient and reliable in various environments. Their advanced technology ensures maximum productivity with minimal effort from the operator – making JCB backhoe loaders an invaluable asset to any business.
Is JCB a backhoe loader?
JCB Backhoe Loader is an iconic product that resonates with trust. It has been consistently at the top of the leaderboard due to its path-breaking features, which have kept it ahead of its competitors. The product stands for quality and durability and is a testament to JCB's commitment to innovation and excellence.
What is the price of JCB loader 432ZX?
The JCB 432ZX Wheel Loader is a powerful and reliable equipment. It has a load capacity of 12000 kg, 2.1 cum bucket capacity, 150 hp engine power, and price starts from Rs. 2450000/unit onwards. This machine comes with best-in-class features such as superior lift arm design, advanced hydraulics system, hydrostatic drive technology, and enhanced safety standards, making it an ideal choice for all kinds of construction work. Its ergonomic cab design ensures operator comfort, while its excellent fuel efficiency helps to reduce running costs significantly over time.
Where are JCB track loaders made?
Savannah Manufacturing Floor prides itself on being the worldwide production facility for all 18 models of JCB's exclusive side-door entry skid steer and compact track loaders. Customers are always welcome to take a firsthand look at this remarkable facility, allowing them to appreciate its engineering excellence first-hand.
What engine is in JCB skid steer?
JCB skid steers are renowned for their performance, reliability, and safety. Equipped with either 56 hp (42 kW) or 74 hp (55 kW) engines, these machines offer powerful torque to tackle any job. The iconic JCB Powerboom™ with side-door entry adds extra strength and stability, ensuring a safe operation every time. With these machines' advanced technology, operators and fleet managers can trust superior results every time.
How much weight can a JCB skid steer lift?
This vertical lift skid steer loader is designed with a 74 hp (55 kW) JCB EcoMAX engine and provides an impressive operating capacity of 3,186 lb (1,445 kg). It offers superior performance and power in a reliable platform that can handle any job.
How fast does a JCB skid steer go?
This JCB Skid Steer has impressive operating specifications, including a 95 A alternator supplied amperage, 27.3 gallons of fuel, and 15.9 gallons of hydraulic system fluid capacity. Its maximum speed is 12.4 mph while its operating speed is 6.8 mph – providing both fast speeds and efficient operation for projects needing quick completion.