Oil filters are essential components for vehicles. They help to keep dirt and debris out of the engine, vastly increasing its longevity and effectiveness. Regarding oil filters, two brands stand out: K&N Vs. Mobil 1. Both companies have a long history in the automotive industry, competing against each other for customers' attention.
When selecting an oil filter, it is essential to consider both cost and quality when making your choice. Customers want something that provides excellent value for their money without sacrificing performance or durability—a comparison between K&N Oil Filter Vs. Mobil 1 will help you make an informed decision about which one works best for your vehicle's needs.
K&N Oil Filter Vs. Mobil 1 offers high-quality products backed by decades of experience in the industry – but only you can decide which is suitable for your car or truck! We invite you to join us in this discussion as we compare these two top-of-the-line oil filters so that you can make an educated choice about what's best suited to meet your needs.
K&N Oil Filter Vs. Mobil 1: Comparison Of Specs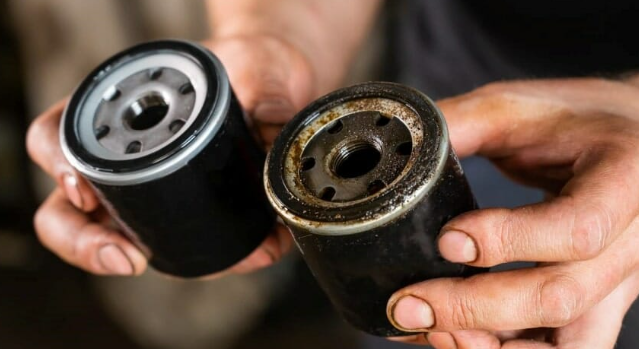 Ford and GM have dominated the automotive industry for decades. Rivals are expected to compete against one another naturally. Before going into details, I would like to mention a few of the products' specifications.
| | | |
| --- | --- | --- |
| Specifications | K&N Oil Filter  | Mobil 1 |
| Manufacturer: | K&N engineering | Mobil 1 |
| Origin Country: | USA | USA |
| Model: | Oil filter | M1-113A |
| Dimensions: | 4-L x 4-W x 4-H inches | 4-L x 4-W x 4-H inches |
| Item weight: | 9.6 ounces | 4.5 ounces |
| Height: | 3.75 inches | 4.19 inches |
| Outside diameter: | 3 inches | 3 inches |
| Material: | Steel | Steel |
| Exterior: | Painted | Painted |
A Detailed Comparison Between K&N Oil Filter Vs. Mobil 1
K&N filters are renowned for their reliability and speed, named in honor of the founders Ken and Norm. Additionally, they provide top-notch oil flow filters that offer the best protection today. Not to be outdone is Mobil 1's filter, which is also widely known for its ability to keep engine wear & tear at a minimum as it effectively purifies oil by removing contaminants.
Main Comparison
| | |
| --- | --- |
| K&N Oil Filter  | Mobil 1 Oil Filter  |
| Compatible with heavier motor oil | Compatible with nearly all motor oils |
| Media for filtration is cellulose | Filtration media fiber and synthetic blend |
| Filtration accuracy compared to its competitors | The filtering capability of this product is superior to its competitors |
| Effectiveness is approximately 85% with the 20-micron size | Effectiveness is about 98% with 20 microns |
| Mileage intervals between 7500 and 10,000 | Mileage intervals between 3000 to 20000 |
| The bypass valve operates at 30 to 45 psi | The bypass valve operates at 22 psi |
| Filters approximately 40% of contaminants | 99% of pollutants are filtered out |
| The oil flow rate is higher | The oil flow rate is lower |
Features
K&N oil filters are renowned for their exceptional quality, with rigorous testing and extensive research & development to ensure that no substitute is necessary. Originating from its founders, Ken & Norm, K&N has become synonymous with fast and reliable performance. This also extends to the canister top, which is welded with a 1-inch hole to make it easier to remove using a socket or wrench.
Mobil 1 oil filters offer unparalleled protection against pressure due to their synthetic & fiber media construction, making them capable of handling up to nine times more pressure than traditional oil filters. Furthermore, this filter offers 28 grams of filtering capacity – an unsurpassable amount compared to other products on the market. Finally, these filters have been designed specifically for high-performance motors and car racing usage – meaning you can say goodbye forevermore to non-moving oil filters!
Performance
K&N offers a range of aftermarket performance parts designed to enhance the power and driving experience of your motorcycle, car, truck, dirt bike, or ATV. The K&N air filter is particularly effective in improving torque and horsepower, resulting in increased acceleration from the existing vehicle. K&N's oil filter systems also direct airflow more efficiently to optimize engine performance.
Mobil 1 provides extended-performance oil filters for maximum protection for an engine. Their synthetic blend media ensures superior filtration, resulting in longer engine life and enhanced efficiency with Mobil 1TM advanced fully synthetic engine oil. With Mobil 1 filters and high-performance motor oils, a year's worth of protection can be achieved.
K&N Oil Filters: Their Benefits
The injector is designed to provide a high flow rate and reliable oil supply.
A Wrench-Off device can quickly and easily remove a hex nut from the 1-inch fastener.
Synthetic blends are employed as filtration media to remove the most hazardous particles.
Built from heavy-duty plastic, the canister offers long-lasting durability.
Service intervals recommended by vehicle manufacturers are of high capacity level.
Laboratory testing guarantees excellent efficiency, mechanical strength, and capacity levels.
This motor oil filter suits all conventional, blended, and synthetic motor oils.
A limited warranty period of one year is provided with this product
Mobil 1 Oil Filters: Their Benefits
This product is designed to provide long-lasting performance and meet today's extended oil drain intervals.
Superior pollutants removal over conventional filters is achieved with this product's use of synthetic fibers, promoting clean oil & extending engine performance and lifespan.
Temperature-resistant silicone is used in constructing its oil drain plugs for excellent durability and high flow rate prevention from clogging.
Oil resistance reduction, as well as improved filter efficiency, are also benefits realized by using this system.
An impressive dust trapping capacity exceeding that of other economical filter brands provides three times more filtration capability than competitors can offer with their products.
Added peace of mind comes from the assurance that it can withstand up to 9 times its operating pressure while in use.
To ensure customer confidence, a limited warranty of 1 year accompanies each purchase.
K&N Oil Filter Vs. Mobil 1: Differences
The K&N oil filter provides a greater flow capacity than the Mobil 1 filter.
The Mobil 1 oil filter can be used with any motor oil, whereas K&N filters are specifically designed for denser oils.
The media Celsius employed by K&N differs from the fiber blend and synthetic media materials utilized by Mobil 1.
Mobil 1's oil filters offer higher filtration capabilities than those provided by K&N's products.
Concerning particle size efficiency, the Mobil-1 system is 98% efficient at 20 microns, while that of K&N is 85%.
Regarding mileage intervals, Mobil 1 offers use between 3000 and 20.000 miles, while those provided by K&N range from 7500 to 10.000 miles.
K&N Oil Filter Vs. Mobil 1: Which Is The Better Oil Filter?
When deciding between K&N Oil Filter Vs. Mobil 1, it is essential to consider the filtration capacity. K&N filters utilize Celsius filtering media, while Mobil 1 uses fiber blend and synthetic media. Furthermore, Mobil 1 is more efficient at 20 microns than K&N's 85%. Ultimately it is up to the user to decide which filter best suits their needs regarding strain media and high-flow filter capabilities.
Final Thoughts
K&N oil filters vs. Mobil 1 offer exceptional filtration and perform very well. Despite originating from different brands, they share many similarities in their functions. Those considering these two products should understand that while there are differences, both offer excellent performance for high-performance vehicles, with the latter having a higher overall rating.