It's not uncommon for one to be puzzled by some tractor dashboard icons. How should one react if a light illuminates and its symbol isn't recognized? Even though various models may have distinct features, the characters of Kubota tractors and trucks remain uniform. The details provided are sourced from a Kubota Owner's handbook for a prominent cab tractor, accessible for free download.
💥See also: Kubota Skid Steer Warning Lights
Decoding Kubota Dashboard Lights and Symbols
When glancing at a spacious cab tractor's dashboard, one can spot numerous lights and icons.
Here's a breakdown of what each symbol represents:
Kubota's Comprehensive Dashboard Display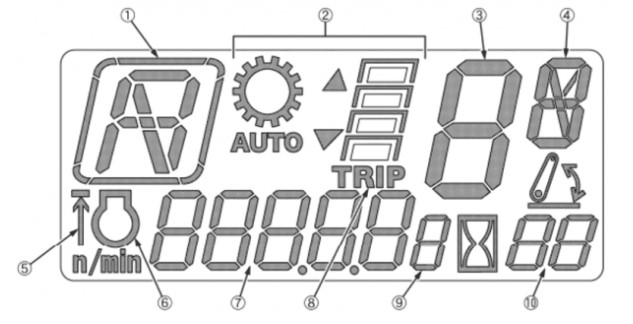 Liquid Crystal Display.
Features of Kubota's Liquid Crystal Display
F or R indicates movement direction: forward or reverse.
Auto mode lights up in Travel or Field mode, signifying an automatic speed shift.
Numbers 1 through 8 or E indicate the Power shift ratio chosen using the Upshift/Downshift button. "E" signals a gear shift mistake.
Letters like L, M, H, C, or N display the range gear shift position. "C" lights up when opting for the creep speed.
A blinking display means the engine speed matches or is below the set Rev-limiter control.
The RPM dual memory function is activated.
Users can toggle between settings such as elapsed time, maximum engine speed, memory, and other vital information.
Symbols like h, A, B, or L have distinct meanings: h represents hour meter or trip time, A or B is for RPM dual memory, and L shows the Rev-limiter control activation.
Numbers 0 through 99 denote the lift arm's elevation.
Indicators for turn signals, high beams, master system warning, trailer, fuel level, electrical charge, engine warning, tachometer, fuel gauge, and coolant temperature are also present.
Below the main display, there are several unique icons to note.
🚀Recommended article: Kubota SVL75-2 Warning Lights
Key Symbols on Kubota Tractor Dash
The 4WD icon lights up when 4WD mode is on.
Bi-speed turn indicator illuminates along with the 4WD sign during Bi-speed turn mode.
The rear wheel differential lock indicator appears when its corresponding pedal is pressed and disappears upon release.
The regeneration indicator blinks when a certain PM level accumulates in the DPF, signaling the auto-regeneration process.
A blinking parked regeneration symbol means it can be initiated.
If the engine RPM increases, the indicator flashes continues operations, and raises the engine RPM until it ceases, ensuring regeneration prerequisites are met.
If regeneration is unsuccessful, this and the parked regeneration symbols will flash. Cease operations, start the parked regeneration, and if the engine warning remains, shut off the engine and seek servicing.
The 3-P. Lifting / Lowering indicator, draft indicator, PTO clutch, engine oil pressure, air cleaner, parking brake, heater, and front suspension indicators have functions that monitor specific tractor aspects, such as when certain features are engaged, when maintenance is required, or when potential issues arise.