Mercon LV Vs. V are both synthetic transmission fluids that are developed for Ford Automatic Transmissions. Both provide superior protection against wear and friction, with Motorcraft offering Mercon V, while Supertech offers Mercon LV. It is important to understand the differences between these two products before making a purchase decision.
The product specifications should be carefully considered when deciding what type of fluid is best suited for an individual's needs. Knowing how each product differs in terms of performance will help make the right choice easier. Additionally, it can be beneficial to research other similar products on the market before deciding which one is most suitable for your application.
Mercon LV Vs. V Transmission Fluid: A Brief Look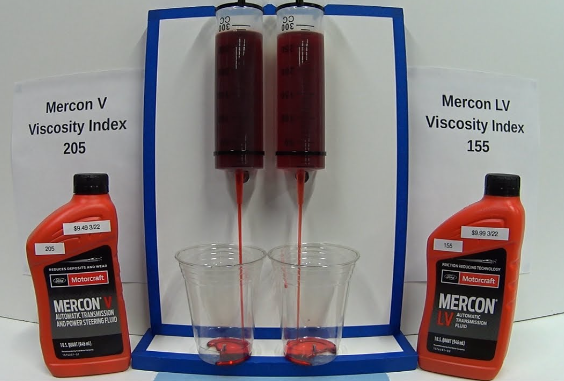 Comparing tables can be a useful tool for readers and buyers to understand the features and details of various products. It is an efficient way to evaluate different items side by side, allowing users to analyze both similarities and differences in order to make informed decisions. The table below provides a comparison between two transmission fluids, highlighting their respective attributes and specifications.
| | |
| --- | --- |
| Mercon LV Transmission Fluid | Mercon V Transmission Fluid |
| Come in a lower viscosity | Compared to Mercon LV it has a higher viscosity |
| Automatic Transmission Fluid (Synthetic ATF) | Formulated with Special Performance Additives |
| It is highly thermally, oxidation-ally, and shear stable | with excellent oxidation and thermal resistance |
| Exceptional Abrasion & Wear Resistance | Outstanding Wear Protection |
| Formulation Ensures Longer Service Life | Provides Rust & Corrosion Protection |
| Excellent Shifting Under High & Low Temperatures | Superior Shifting Performance Under High & Low Temperatures |
| Red Color Aids In Leak Detection | Red coloring makes it easier to detect leaks |
| Hydraulic oil that is SAE 20W or ISO 46 viscosity grade | Suitable for Ford model, Type H Dexron III, and Type CJ fluid |
Mercon LV Vs. V Transmission Fluid: Overall Details
Mercon V: What is it?
Fluids with a high viscosity index, such as Mercon V, are used for automatic transmissions and power steering systems due to their ability to flow but not rapidly. Their high viscosity index prevents slippage in these environments while still allowing the fluid to move through the system. Additionally, it is designed to provide protection against wear and tear of components in said environments.
Mercon LV: What is it?
LV denotes low viscosity, signifying that the fluid flows promptly and effortlessly. Mercon LV, a 100% artificial automatic transmission liquid marketed by Valvoline under the Dexron VI label, is constructed of superior materials. Ford ATF is a more advanced adaptation and may not be utilized in conjunction with Mercon fluids. Cutting-edge additive technology has been employed to amplify effectiveness.
Compatibility
Mercon fluids are not compatible with Mercon LV, however, it can still be used in conjunction with older GM Dexron transmissions as they need to be customized to meet their requirements. On the other hand, Mercon V is usually utilized for Ford automatic transmissions and has similar attributes to Dexron III. Additionally, it can be employed alongside Type CJ fluid and Type H fluid.
User-Friendliness
Mercon LV is an excellent lubricant choice for industrial applications, offering extended service life with superior abrasion and wear protection where required. Formulated to meet ISO 46 or SAE 20W viscosity specifications, it not only serves as a high-grade ATF but also makes a great option for power steering pumps.
Viscosity
Mercon provides two products with different viscosity grades. Mercon LV is designed to provide lower friction during engine operation and thickens in high temperatures. In comparison, Mercon V has a higher viscosity index that ensures consistent performance at all temperatures and is particularly suitable for cold climates due to its higher viscosity. Both these oils are indicative of the highest quality and stable viscosity levels offered by Mercon.
Thinness And Thickness
Thinness and thickness play a vital role in any fluid brand. Mercon V has a different thickness to Mercon LV, as well as varying levels of performance depending on the temperature. Consequently, Mercon V can provide greater resistance to internal friction and abrasion than its counterpart.
Overall Performance
Mercon LV is designed to provide excellent transmission life and exceptional sludge resistance. This product also has the benefits of outstanding oxidative fixity regardless of the environment, making it an attractive option for many consumers. It ensures smoother gear shifting than other fluids and its design prevents sticky mud and varnish accumulation in the engine. After long-term use, this fluid will also keep engines cleaner.
By comparing two popular products, users can determine which are best suited to their needs or if they differ from one another significantly. Mercon V fluid offers a top-tier solution that stands out among others when it comes to quality and performance over time – allowing users peace of mind that their investment will last for years to come.
Mercon LV Vs. Mercon V Transmission Fluid: What's The Better?
When faced with a selection of similar products in the same category with comparable specifications, it can be difficult to determine which one is most suitable for the desired purpose. In order to make an informed decision and alleviate any confusion or worry about making the right choice, two high-quality products were compared side by side.
It was found that both items were superior transmission fluids belonging to the same class. Thus, when making a purchase consideration should be given to vehicle compatibility as well as other requirements that may influence which fluid type is most appropriate.
Final Verdict
The discussion of Mercon LV and Mercon V transmission fluid has concluded, highlighting both their similarities and differences. While the two fluids are suitable for certain sectors and purposes, Mercon V exhibits additional benefits compared to its counterpart in some situations. Ultimately, this decision is left to the consumer as each fluid offers unique attributes that could be beneficial depending on the engine type. However, regardless of which option is chosen they are both effective in their respective classes and offer reliable performance when used accordingly.