Nitto is a well-known brand in the tire industry, with its models often sparking debate among users. The latest comparison topic is between the Nitto Trail Grappler Vs. Ridge Grappler. While both tires share certain similarities, distinct differences in quality and usage will help inform your decision when choosing one. You can look closer at their features and specifications for more detailed information on these tires.
Comparison Chart – Nitto Trail Grappler Vs. Ridge Grappler
| | |
| --- | --- |
| Nitto Trail Grappler | Nitto Ridge Grappler |
| Mud terrain tire | Hybrid tire |
| Specialized in evacuating dirt, sand, and mud | Specialized in evacuating mud, snow, and water |
| It is not so suitable for dealing with heavy snow | It can deal with heavy snow very well |
| It does not look so aggressive | Looks aggressive |
| Works best as a mud terrain for off-road driving | Works best both for on-road and off-road driving |
| Great weight-carrying capacity | Mid-range weight-carrying capacity |
| Less expensive than the Ridge Grappler | Costlier than the Trail Grappler |
In-Depth Discussion – Nitto Trail Grappler Vs. Ridge Grappler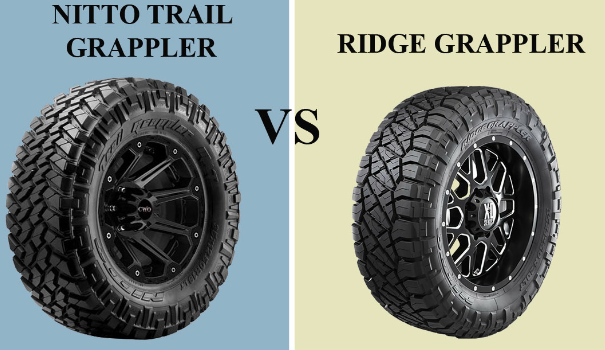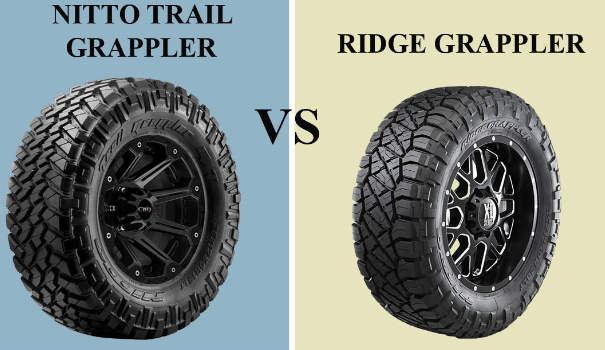 Drawing from a variety of resources, this comparison chart allows for an informed decision to be made. By researching the features and benefits side-by-side, it can become apparent which option is right for you.
Shoulder And Tread Design
Nitto Trail Grappler is a robust mud terrain tire with superior off-road performance. Its unique tread design features reinforced shoulder grooves for increased stability, lateral forward traction, and large chunky tread blocks with deep voids that help evacuate elements like mud, water, and snow quickly. The tire also has profoundly siped center treads that further aid in evacuating parts.
The Nitto Ridge Grappler hybrid tire is designed to reduce road noise while providing improved traction and grip due to its angular tread block design. It features substantial grooves between the tread blocks, which allow for quick evacuation of dirt, snow, water, and mud, along with smaller-sized tread blocks than most tires on the market today and siping that efficiently performs its job.
Both Nitto tires are built to perform exceptionally in all conditions while reducing noise levels at various street or highway speeds, making them ideal choices for a reliable off-road option or an everyday commute solution.
Built Quality And Performance
Nitto Trail Grappler is the ideal tire for off-road and on-road driving. It is built with seven-ply heavy-duty material that offers excellent traction on and off the road. The three-ply sidewalls and thick rubber reduce puncture possibilities while providing a softer surface to ensure a good grip. Its tread pattern consists of two-ply Steel, three-ply Polyester, and two-ply Nylon construction, providing an aggressive look and superior handling capabilities in any driving situation.
Season And Weather Performance
Siping plays a crucial role in the performance of tires, depending on the weather conditions. The Trail Grappler offers smaller sipes that effectively remove dirt and dust, while larger sipes on the Ridge Grappler help deal with heavy snow and water for better traction. Regardless of terrain, siblings can ensure their tire performs to its highest potential.
Size And Load Range Rating
Nitto Trail Grappler is available in 58 sizes, ranging from 15 to 20 inches. Each size also offers a variety of load range ratings, with an F rating beginning at 18-inch wheels. The Nitto Ridge Grappler is provided in E to F all-load range ratings for any wheel size.
Price Comparison
Price-wise, Nitto Trail Grappler comes cheaper than the Nitto Ridge Grappler. Because Ridge Grappler is made with more effective technology to make it a hybrid tire. Also, the Ridge Grappler comes with a noise reduction system. This is why this extra feature causes some extra bucks.
Nitto Trail Grappler Or Nitto Ridge Grappler – Which One To Choose?
When choosing between these tires, the decision is ultimately up to the individual. For those who venture off-road more often, the Nitto Trail Grappler could be a good option, as this tire is designed for heavy-duty off-road conditions and has remarkable tolerance when facing obstacles. However, it can be subject to noise issues at times.
Alternatively, if both on- and off-road driving are equally anticipated, then the Nitto Ridge Grappler would likely suit best due to its advanced technology that can handle any situation without creating too much sound. However, this comes at an increased cost compared to other tires. Ultimately, it's essential to consider your needs before making a purchase decision to get the most value from your investment.
Final Words
The discussion of Nitto Trail Grappler vs. Ridge Grappler has now been concluded, allowing for a more informed decision. Potential buyers must consider their budget when selecting and understand the need for regular maintenance to keep tires in good condition over time.