The Harley-Davidson Road King Vs. Road Glide is two of the brand's most beloved motorcycles. Despite having gained fame in the 1960s, they still feature many classic features that make them attractive to those going through a midlife crisis, looking for a cool ride, or planning an extended trip. The latest bike models, the Road King Special and Road Glide Special provide riders with even more options when choosing their ideal cruiser or tourer.
When selecting between these two great models from Harley-Davidson, there is much to consider; however, any rider can be assured that either choice provides excellent value. With this information in mind, it should be easier for anyone struggling to decide between the Road King and Road Glide to feel confident about making their choice.
Harley Road King Vs. Road Glide: The Ultimate Comparison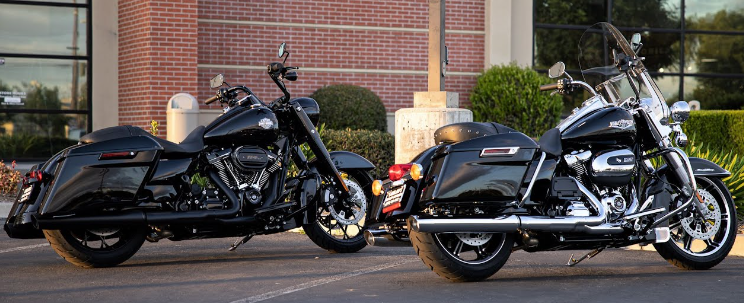 Harley-Davidson's stylish motorbikes are uniquely suited for urban explorers and canyon carvers, making them a far better option than highway tourers.
Features
The Road Glide Special and Ultra Limited are Harley-Davidson's premier models within their touring line-up. Notable features of these impressive machines include a full-color TFT display, 5.25-inch speakers, box GTS IT system, and Boom! audio systems for unparalleled sound quality even at highway speeds. Additionally, the Road King series offers several unique features, such as Bluetooth connectivity for voice recognition, GPS navigation capabilities, and a USB port to charge or play music on the bike. With this level of sophistication in mind, it is no surprise that these two models remain at the top of Harley Davidson's offerings when it comes to luxury touring motorcycles.
Dimensions
| | |
| --- | --- |
| Harley Road King | Harley Road Glide |
| Length- 96.5 inches | 95.7 inches |
| Loaded seat height: 26.3 inches | 25.9 inches |
| Ground clearance is- 5.3 inches | 5.1 inches |
| Rake- 26 | 26 |
| Trail- 6.7  inches | 6.8  inches |
| Wheelbase- 64  inches | 64  inches |
| Front tires- BW 130-70B18-63H | BW 130-60B19-61H |
| Rear tires- BW 180-55B18-80H | BW 180-55B18-80H |
| Fuel capability- 6 gallon | 6 gallon |
| Oil capability- 5.2 qt. | 5.2 qt. |
| Shipped Weight- 794 lb. | 818 lb. |
| Running weight- 828 lb. | 853 lb. |
| Luggage capacity- 2.3 cu ft | 2.7 cu ft |
Comfortable
Road King motorcycles are renowned for their luxurious features. They provide a comfortable and enjoyable ride, regardless of the distance traveled. The bike's weight is one factor that must be considered when parking; with a total weight of 387kg, maneuvering it into position requires some skill. Despite its size, passengers can easily step aboard due to its low seat height of 695mm. Road Glide Special is ideal for those looking for a relaxed motorcycling experience. With its range of advanced features and comfort-focused design, it is easy to see why Road King bikes remain popular among enthusiasts today.
Engine
| | |
| --- | --- |
| Harley Road King | Harley Road Glide |
| Engine- Milwaukee Eight-107 | Milwaukee Eight-114 |
| Bore- 3.937 inches | 4.016 inches |
| Stroke- 4.374 inches | 4.5 inches |
| Displacement- 107 cubic inches | 114 cubic inches |
| The ratio of compression- 10.0:1 | 10.5:1 |
| Fuel injection using electronic sequential ports (ESPFI) | Fuel injection using electronic sequential ports (ESPFI) |
| Exhaust- Chrome, Dual exhausts in 2-1-2 configuration and tapered mufflers | Dual exhausts in 2-1-2 configuration and tapered mufflers |
Performance
The Road King is a popular V-twin tourer, renowned for its lightweight design and good handling. Its 6-gallon fuel tank makes it an ideal choice for long trips on the road. Moreover, the cornering clearance of this Harley Davidson bike allows riders to take sharp turns with ease.
The Road Glide Special is also sought after by motorcycle enthusiasts who prefer touring bikes that can handle twisty roads with little traffic. This Harley has excellent overtaking abilities at low speeds, which makes it highly appealing to experienced riders. The engine does not show any signs of strain even when traveling at high-speed limits, making this model a great option for those looking for an adrenaline rush while out on the open road.
Chassis
| | |
| --- | --- |
| Harley Road King | Harley Road Glide |
| – | Optional style wheel type:- Gloss Black Prodigy with Contrast Cut Highlight |
| Front wheels- Slicer II cast aluminum | Gloss black prodigy |
| Rear wheels- Slicer II cast aluminum | Gloss black prodigy |
| Brake- caliper type- 32 mm, 4-piston fixed front and rear | 32 mm, 4-piston fixed front and rear |
Design
The Harley-Davidson Touring Motorcycles in all black gold have been designed to provide maximum riding comfort. The Road King and Road Glide models are particularly well-suited to providing this kind of experience, thanks to their unique features. As a brand that carries with it a great deal of history and heritage, every detail of the Road King reflects this fact – from its engine performance to its design.
Harley-Davidson motorcycles embody American culture and honor its rich past by incorporating vintage designs into their bikes. This timelessness makes them iconic pieces of history that will never go out of style. With such historic influence and top-of-the-line engineering, the Harley Davidson Touring Motorcycle is sure to stand out wherever it goes.
Styling And Feel
The Harley Road King Vs. Road Glide differs in terms of styling. The Road King comes with the Impeller "Cast Aluminum Wheel" set, while the standard for the Road Glide is the "Enforcer Cast Aluminum Wheels." Both have chrome 2-into-1 exhausts with tapered mufflers and Showa Dual Bending Valve forks. A double-downtube, double-cradle frame offers a traditional skeleton structure with a steering head at right angles. Both models include fixed, 32 mm, 4-piston front, and rear brakes for safety purposes, which help ensure stable straight-line tracking when driving at high speeds.
Transmission
The Harley-Davidson Road King Vs. Road Glide is equipped with a High Output Twin Cam 103TM V-Twin engine paired with a 6-Speed Cruise Drive system, producing 104.7 lb-ft torque at 3,250 rpm while achieving an impressive 42 mpg. With large capacity tanks ranging from 22.7 liters for both models, these motorcycles have the ability to travel long distances between gas stations without sacrificing comfort or performance for drivers and passengers alike.
Pricing And Options
The Road King is an ideal choice for those looking to enter the Touring lineup at a reasonable cost, with its Vivid Black starting price of $18,749. The Road Glide offers more features than the Road King and starts at $21,199 in Vivid Black. Both models feature two-tone finishes and custom colors, although the Road King only has two shades available. Hard Candy Custom options are also available on the Road Glide but not on the Sport.
Road Glide Vs. Street Glide: What's Your Best Fit?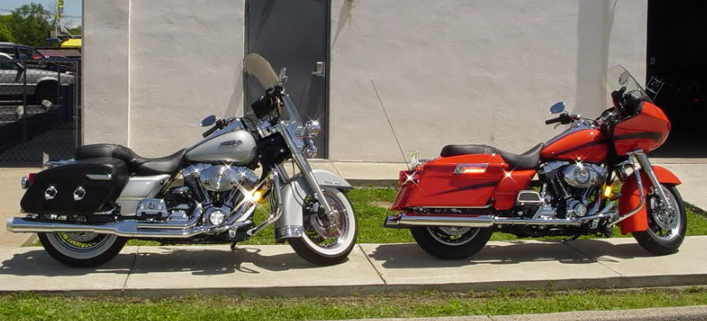 When it comes to selecting between the Harley-Davidson Road Glide and Street Glide, making a decision is not an easy task. However, those who prefer having a lower ride height or would benefit from easier mounting and dismounting may find that the Road Glide is their ideal option. Both bikes boast similar performance specifications, safety features, and infotainment systems; however, there are some noteworthy distinctions, such as the reduced ride height of the former and its lighter weight in comparison to the latter.
Final Words
The Harley-Davidson Road King Special and the Road Glide are two of the highest-quality motorcycles available. The Road King Special is a classic bike with enough amenities to provide comfort while on the road without any unnecessary technology, such as TFT screens or loudspeakers. Conversely, the larger size of the Road Glide motorcycle showcases its dominance and provides an excellent choice for those who enjoy long distances and have ample finances. Both bikes offer riders different experiences based on their individual needs and preferences.