Rural King is a well-known brand, and its batteries are renowned for their reliability, longevity, and compatibility with most vehicles or other related equipment. However, many users remain unaware of who makes Rural King batteries. This article has made an effort to expose the company behind these superior products. Additionally, some interesting facts regarding the brand and its manufacturer have been presented in order to facilitate further understanding of this topic.
Who Makes Rural King Batteries?
Rural King automotive batteries are produced by Exide Technologies, LLC – a renowned American multinational lead-acid battery manufacturer.
Where Are Rural King Batteries Made?
Rural King, based in the United States, has chosen Exide Technology as its manufacturer for automotive batteries. While neither company has disclosed the exact location of production, it can be assumed that they are manufactured within the US region, given both companies' presence there. Exide Technology's main battery manufacturing facility is located in Milton, Georgia. They also operate across numerous countries, including Europe and Australia, thus potentially having regional plants or factories dedicated to battery production outside of the US.
Are Rural King Batteries Any Good?
Rural King has established itself as a provider of quality products, and its batteries are no exception. Strict testing regimes ensure that each battery meets the highest standards before they reach consumers, while customer comments suggest that these batteries offer reliable performance at an affordable price point. With such positive feedback, it's unsurprising that customers repeatedly return for this brand's offerings.
About The Manufacturer Of Rural King Batteries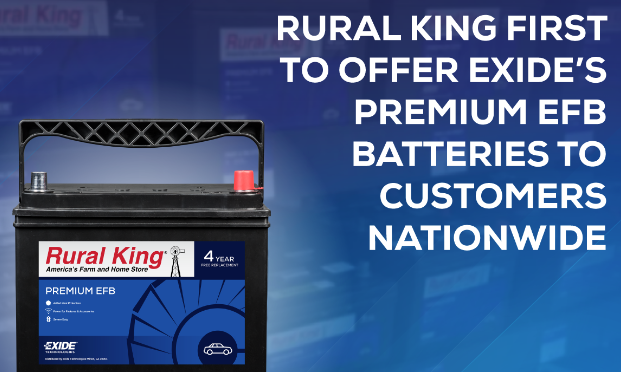 Exide Technologies, LLC has been a significant player in the automotive industry for over 133 years. Founded in 1888 by W.W Gibbs, who acquired the ideas and patents of inventor Clement Payen with the intention to make storage batteries a commercial product, Exide has since become a leading global provider of stored electrical-energy solutions for Industrial and Transportation markets across 80 countries around the world.
Exide produces various batteries, accessories, and energy storage systems to serve transportation, network power, motive power markets, and Telecommunications, Utility Uninterruptible Power Supply (UPS), and Solar storage segments. Its headquarters are located in Milton, Georgia, but it also operates manufacturing plants in other parts of the U.S., and Europe, with its recycling plant at Gennevilliers, France. By continuously innovating their products along with providing superior performance battery technology, Exide Technologies is now firmly established as one of the most reliable sources for lead-acid industrial automotive battery manufacturers worldwide.
What Are The Types Of Rural King Batteries Available?
Rural King offers a selection of five different types of batteries, all of which are detailed below:
Rural King AUTO or CAR Batteries
Various sizes and prices of batteries are available to satisfy the needs of all types of customers.
Rural King LAWN MOWER Batteries
Rural King offers a wide selection of lawn and garden batteries to accommodate its customers' varying preferences and needs. Customers can choose from various price points when selecting their desired battery.
Rural King MARINE Batteries
Rural King provides customers with a range of marine batteries in different types, sizes, and price ranges, so they can select the one that meets their vehicle requirements as well as budget needs.
Rural King GOLF CART Batteries
If one is searching for a golf cart battery, Rural King presents itself as the most optimal option compared to other local choices. Though Rural King does not supply an extensive range of products when it comes to this specific item as they do with their other offerings, purchasers can still select the best choice according to their individual budget needs.
Rural King SMALL VEHICLE Batteries
Consumers can select from a variety of types, sizes, and pricing ranges for the batteries, enabling them to pick the right one.
Where To Buy Rural King Batteries?
Rural King provides an easy and convenient way to purchase products with their retail stores in 13 states across the United States. With over 100 locations, customers can find a store in Alabama, Illinois, Indiana, Kentucky, Missouri, Pennsylvania, Florida, Tennessee, Ohio, Michigan, North Carolina, and Virginia. Shopping at Rural King ensures quality products for great prices.
What Are The Best Rural King Batteries?
Rural King Brand has some of the best-selling batteries that are worth taking a look at:
Rural King 525 CCA Classic Auto/Truck/SUV Battery – 75DT-60
Rural King Automotive Battery – 65-72
Rural King 6 Volt Golf Cart Battery – GC115G
Rural King Classic Battery – 34-60
Rural King Lawn & Garden Battery – U1L-CT
What Are The Best Alternative For Rural King Batteries?
When considering alternative options, some brands provide dependable performance and quality. Optima, DieHard, ACDelco, and Autocraft all offer reliable solutions that can help maximize vehicle performance. It is essential to evaluate each option in terms of one's needs and preferences so the best choice can be made for their specific situation.
Final Word
This article provided an informative overview of the manufacturer behind Rural King batteries. It answered who makes Rural King batteries and provided interesting facts about the brand and its manufacturer. This was intended for readers not previously aware of this information, allowing them to understand better the product they are purchasing.