With many years of solid presence, STP has established itself as a reliable and trustworthy brand for car owners. Their products are renowned for their quality and affordability, making them an attractive option to car owners worldwide. This article will provide insight into who makes STP oil filters and how highly customers rate them. By the end of this article, readers will have all the information they need to make an informed purchase decision on whether or not these oil filters are right for them.
👀Look at this: Who Makes Motorcraft Batteries
Who Makes STP Oil Filters?
Champion Laboratories, Inc. is a leading automotive filter manufacturer and distributor that produces STP oil filters. They have established partnerships with many popular brands to serve the demands of their customers internationally. With an emphasis on quality assurance and commitment to excellence, Champion Laboratories, Inc. continues to be one of the most reliable providers in the industry for OEMs and aftermarket users.
Where Are STP Oil Filters Made?
The company's production facilities are spread throughout the world. However, their renowned STP filters are produced in Mexico. Following this production process, the products are distributed to various continents due to their effective filtering capabilities, which have led them to be highly sought after.
Are STP Oil Filters Any Good?
Although STP oil filters meet the OEM standards, they have not been received well by users. Many people complain that their performance is below par and it has caused a negative impression of this product. The lack of an anti-drain back valve is another big issue that makes it challenging to prevent oil from leaking out when the engine isn't running.
However, their thoughtful construction specs make them compatible with many car models, allowing smooth engine functioning and increasing service life. They also filter motor oil effectively before sending it into the system so that you can enjoy a safe ride without any worries about safety or performance issues. Depending upon your usage, these filters will likely stay in service for more than 4500 miles making them an ideal option if you are on a tight budget.
About The Manufacturer
Champion Laboratories, Inc. is a manufacturer of oil filters with humble beginnings. Established in 1955 as Kleen Pak Manufacturing Company, they experienced a major jump four years later when they patented an engine-end relief valve, allowing them to produce spin-on oil filters. This invention still stands as a breakthrough for the industry today and continues to be used by many car owners worldwide.
In addition, Champion Labs also produces oil filters for Mobil 1, and K&N has been recognized with several awards due to their commitment to providing high-quality products at affordable prices; and acquired STP Corporation in 1970, which further expanded their product offerings under the STP. Their production center is based in Albion, Illinois, while distribution centers are around Michigan, Toronto, and San Jose. With careful attention given to efficiency and effectiveness without cutting corners on cost or quality control measures taken during production processes, Champion Laboratories remains one of the most trusted brands for vehicle maintenance needs across countries worldwide.
What Are The Types Of STP Oil Filters Available?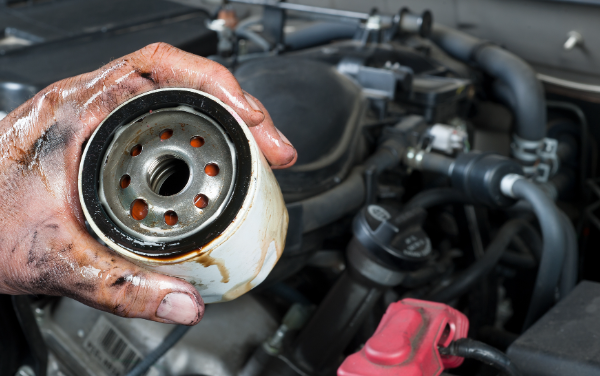 Regarding STP filters, they all fit into the same category – cartridge type. However, there is a bit of variance in specs from car model to car model. To ensure you get the right filter for your vehicle, visit one of the online stores mentioned in the next section and use your car's model in their search bar to find the correct oil filter.
Where To Buy STP Oil Filters?
There are a few reliable online platforms when ordering an STP oil filter. These include the STP website, Amazon, AutoZone, Walmart, O'Reilly Auto, and Advance Auto Parts. Additionally, customers may always purchase one in-store at their local shop.
⚡️ Another article: Who Makes Supertech Oil Filters
What Are The Best STP Oil Filters?
STP offers some of the best oil filters in the market. The STP Oil Filter S4967 provides filtration service up to 5000 miles and has an efficiency rate of 98%. It also features a silicone anti-drain back valve and 101 square inches of surface area. For those on a budget, there are STP S8873 and STP S-02805, which still offer outstanding performance at a lower price point. The Extended Life model, STP Oil Filter Extended Life S4967XL, boasts up to 10000 miles of filtering capability with its unique synthetic and cellulose media blend. All these options make it easier for customers to choose their desired product according to their needs.
What Are the Alternatives Of STP Oil Filters?
It is evident that when selecting an oil filter, one has many options. The most popular brands in the market are AC-Delco, Wix, Castrol, Toyota, Purolator, Fram, and Bosch. K&N and STP also offer high-quality products at reasonable prices. For customers who have more budget to spend on oil filters can consider buying premium units as they come with better filter mediums that are highly durable and well constructed.
🎯Suggested article: Who Makes Rural King Batteries
Final Words
It is hoped that all the questions have been answered, including who makes STP oil filters. Champion Laboratories Inc. manufactures this product, making it reliable; however, alternative options should also be considered.