Your car is trying to tell you something…but what? If you're driving and your forward collision warning light comes on, it's time to take notice. This safety feature is designed to protect you, and it should be taken seriously. In this blog post, we'll explore what could be causing your forward collision warning light to come on, and what you can do about it. We'll also discuss the importance of this safety feature and how it can help prevent accidents. Read on to learn more!
What is a forward collision warning system?

A forward collision warning system is a safety feature that is designed to warn drivers of an imminent collision. This system uses sensors to detect when a vehicle is getting too close to the car in front of it, and then alerts the driver with an auditory or visual warning. Some systems may also apply the brakes automatically if the driver does not react in time.
While this feature can be extremely helpful in preventing accidents, there are a few things that can cause the forward collision warning light to come on. One common reason is simply that the sensor is dirty or obstructed, and needs to be cleaned. Another possibility is that there is a problem with the electrical wiring. In some cases, the entire system may need to be replaced.
If you're not sure what's causing your forward collision warning light to come on, it's best to take your car to a qualified mechanic for diagnosis and repair.
See also: Mercedes-Benz Suspension Warning Light Fix Module
How do forward collision warning systems work?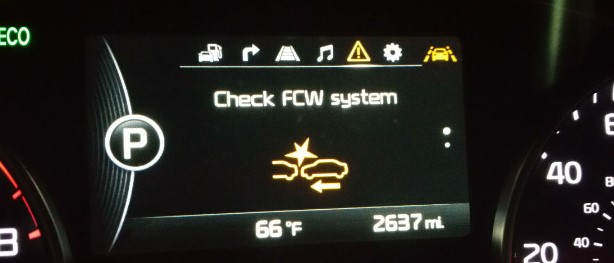 There are many different types of forward collision warning systems, but they all share the same basic principle: using sensors to detect when a collision is imminent and warn the driver.
The most common type of sensor used in forward collision warning systems is a radar sensor. Radar sensors emit waves that bounce off objects in front of the vehicle and back to the sensor. The sensor then calculates the distance to the object and its relative speed. If the system determines that a collision is likely, it will warn the driver with an audible or visual alert.
Other types of sensors that can be used in forward collision warning systems include cameras, lasers, and ultrasonic sensors. These sensors work similarly to radar sensors, but each has its own strengths and weaknesses. For example, cameras can provide a more detailed view of what's ahead, but they can be fooled by objects that are not actually in the path of the vehicle (such as signs or trees). Lasers are very precise but can have difficulty penetrating bad weather conditions like rain or snow. Ultrasonic sensors are less affected by weather but can have trouble detecting small objects.
No matter what type of sensor is used, forward collision warning systems are designed to give drivers enough time to react to avoid or mitigate a collision. The amount of time will vary depending on the system, but it is typically around two seconds. This gives drivers time to brake, swerve out of the way, or take other evasive action.
What causes the forward collision warning light to come on?

There are a few different reasons that could cause your forward collision warning light to come on. One reason is if there is something blocking the sensor, such as dirt or snow. Another reason could be if the sensor is damaged or not working properly. If you have recently had your car serviced, the light may just be indicating that the system needs to be calibrated.
How to fix a forward collision warning system?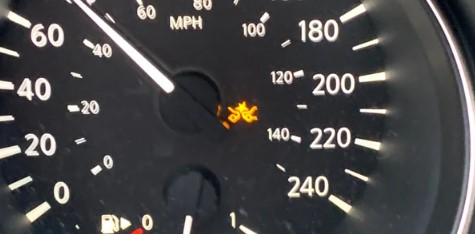 If your forward collision warning system is not working properly, there are a few things you can do to fix it. First, check the sensors to see if they are clean and free of debris. Next, check the wiring to make sure it is not damaged or frayed. Finally, check the software to ensure it is up to date and compatible with your vehicle.
If you're wondering why your forward collision warning light is on, it could be for a number of reasons. It could be something as simple as a dirty sensor or low brake fluid levels. However, it could also be indicative of a more serious problem, such as an issue with your brakes or steering system. If you're unsure of what to do, it's always best to consult with a professional to get their opinion.
FAQs About Why Is My Forward Collision Warning Light On
What does forward collision warning problem mean?
Forward Collision Warning (FCW) is a driver assistance technology designed to help reduce the risk of an impending collision. It works by using a front-mounted camera and millimeter wave radar to monitor traffic conditions ahead. If a potential hazard is detected, FCW will issue both an audible and visual warning prompting the driver to take action, such as applying their brakes or adjusting their speed accordingly. This gives drivers more time to react in potentially hazardous situations, helping them stay safe on the road.
Why is the collision light on in my car?
Your Forward Collision Alert is warning you that you are approaching another vehicle too quickly. It is recommended to brake and/or slow down in order to avoid a collision. This feature has been designed to keep drivers safe on the roads by alerting them to potential hazardous situations ahead of time, giving them an opportunity to take action before it's too late.
Can you turn off collision warning?
Drivers who have a forward collision warning system equipped on their vehicle have the option of deactivating this safety feature. However, it is important to note that they should consult their owner's manual for detailed instructions regarding how to turn off the forward collision warning system. This will ensure that the driver understands how to safely and effectively disable this feature when necessary.