If you're driving an Acura MDX and are experiencing all warning lights on, don't panic. There's no need to take your car to the mechanic just yet. In this blog post, we will explain what the Acura MDX all warning lights on mean and how to fix them. From the check engine light to the traction control system, it can be challenging to determine which warning light is signaling a problem. This post will help clear things up so you can get your MDX back on the road as quickly as possible.
Read also: Acura Mdx Dashboard Warning Lights And Symbols
What Kind Of Car is Acura MDX?

Acura is a luxury car brand that's known for its stylish and sophisticated vehicles. The company offers many cars, from sedans and SUVs to sports cars and performance-oriented models. Acura vehicles are known for their high quality, reliability, and advanced features. Many Acura models have the latest technology, including GPS navigation, premium audio systems, and heated seats.
There are three different types of Acura MDX. The first is the Standard model, which includes features like heated front seats, a power moonroof, and an 8-inch display audio system. The second is the Technology Package, which adds features like remote start, a 10-speaker premium audio system, and navigation. The third is the Advance Package, which adds even more luxury features like ventilated front seats and a 16-way power driver's seat.
Do some research to find out what features and options are available on each model, then narrow down your choices based on your needs and budget. When deciding, it would be best to consider things like fuel economy and cargo space.
See also: Peugeot Dashboard Warning Lights
What are the All Warning Lights on the Acura MDX?

If you're having trouble figuring out what all the warning lights on your Acura MDX are supposed to mean, you're not alone. In this article, we'll review the Acura Mdx All Warning Lights.
The most important of the Acura warning lights;
Brake System Warning Light
Seat Belt Reminder Light
Airbag Warning Light
Battery Charge Warning Light
Low Fuel Warning Light
Tire Pressure Monitoring System Warning Light
If you see a warning light on your Acura vehicle, it means that there is a potential issue that needs to be addressed. The colors of the warning lights can give you an indication of the severity of the problem. Here is a guide to help you understand what each color means:
Red: A red warning light indicates a potentially serious problem that needs to be addressed immediately. If you see a red light, pull over and turn off the engine as soon as possible.
Yellow/Amber: A yellow or amber warning light is less severe than a red one, but it still indicates an issue that must be considered. If you see a yellow light, you should take your vehicle to an Acura dealership or authorized service center as soon as possible so that they can diagnose and fix the problem.
Green: A green warning light usually indicates that something on your vehicle is turned on, such as the high beams. It's not typically something that requires immediate attention.
🎯Suggested article: Acura Mdx Years To Avoid
How to Reset the Acura MDX Warning Lights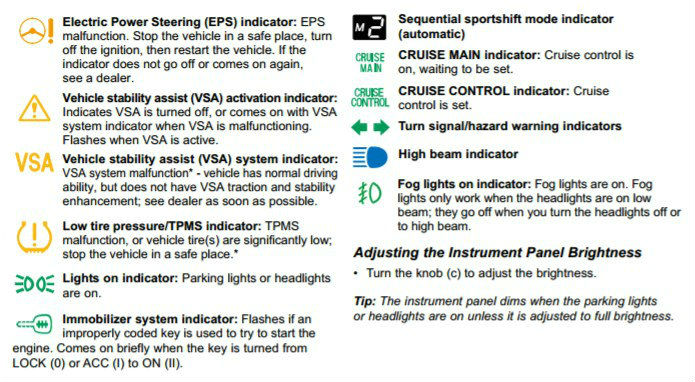 If you are experiencing an issue with your Acura MDX warning lights and you don't know how to reset them, follow these steps:
First, make sure the car is in Park.
Next, turn the ignition off and then back on.
Hold down the brake pedal while turning the key to the "On" position.
Release the brake pedal and turn the key to the "Off" position.
Reconnect all of your accessories, and then start your car.
The warning lights should now be off. If they are not, repeat these steps until they are turned off.
What to Do if the Acura MDX Warnings Keep Coming on?
If the Acura MDX warnings keep coming on, there are a few things you can do to try and fix the issue. First, ensure all of your Acura MDX warning lights are functioning correctly. If one or more of your lights aren't working, you may need to replace that light. Second, if your Acura MDX is still experiencing warning lights, it may be because of an issue with its sensor. If this is the case, you'll need a qualified mechanic to inspect your MDX for any problems with its sensor and fix them if necessary. Finally, if none of these solutions work, bringing your Acura MDX in for repairs might be time.
In conclusion, it is essential to note that while the Acura MDX all warning lights on, this does not mean that the car is necessarily in need of repair. Instead, it is essential to check the manual and consult a qualified mechanic to determine the cause of the problem. The issue may be quickly resolved in some cases, such as when the oil needs to be changed. However, if the problem appears to be more serious, it is always best to err on the side of caution and take the car in for service.
FAQs About Acura Mdx All Warning Lights On
Is an Acura MDX a reliable car?
According to J.D. Power, the 2023 Acura MDX has a predicted reliability score of 78 out of 100, making it an Average score on their scale. The highest possible score is 91-100, considered Best; 81-90 is Great; 70-80 is Average, and 0-69 is Fair and below average.
What is the major problem of Acura MDX?
The National Highway Traffic Administration (NHTSA) has received numerous complaints regarding vehicles' electrical systems. Along with issues concerning brakes, suspension, and forward collision avoidance, this is one of the most common problems customers report. NHTSA has implemented safety procedures to reduce the number of electrical system-related incidents on roads and highways across the country.
Which is better, RDX or MDX?
The RDX is the more fuel-efficient option for West Hartford drivers. It offers an impressive 22 mpg** in the city and 28 mpg** on the highway, compared to just 20 mpg** in the city and 27 mpg** on the road for its counterpart, the MDX. Both vehicles provide Super-Handling All-Wheel Drive™ (SH-AWD®) with their AWD packages so that drivers can enjoy added traction in wet weather or during off-road excursions.
Is Acura MDX a luxury car?
The MDX is a well-rounded three-row luxury SUV offering an impressive range of features at a competitive price. At its core is the standard 290-hp V6 engine, which comes with a 10-speed automatic for slick performance and 20 mpg overall in fuel economy. For those seeking even more power, the top-of-the-line Type S offers a powerful 355-hp 3.0-liter turbo V6 that ensures smooth and enjoyable driving experiences regardless of conditions.
What would cause all warning lights to come on?
Dashboard lights turning on simultaneously typically implies an alternator or charging system issue. It is common for all dashboard lights to activate due to a lack of alternator output, as low voltage can spark electrical irregularities. Replacement of the battery should be preceded by testing of the alternator.
What does it mean when all the lights on the dashboard flash?
When dash lights suddenly flicker, it is typically a sign of an issue with the alternator. This component is crucial in running electrical components and recharging the vehicle's battery. Therefore, it is wise to have the alternator checked out by a professional as soon as possible if this occurs.
How do I fix my dashboard warning lights?
To resolve dashboard light issues, locating the associated fuse and assessing its condition is necessary. If the fuse has blown, replacing it could be all needed to restore full functionality.