Manufacturers are often the first source of assurance regarding battery quality. Knowing who makes a particular product can help people decide if they want to invest in it, and Motorcraft batteries are no different. With Ford recommending using Motorcraft products in their vehicles, owners may be curious about the manufacturer that produces them. This article provides an overview of Motorcraft batteries and information on which is best for your needs.
🚨You may be interested in: Who Makes Supertech Oil Filters
Who Makes Motorcraft Batteries?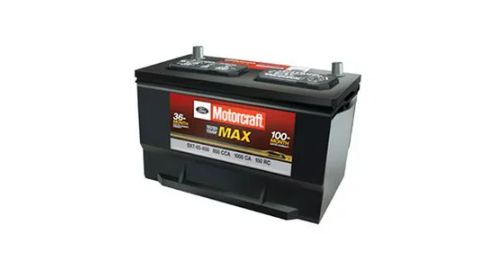 Johnson Controls International is a manufacturer of Motorcraft batteries, along with several competitor brands like Interstate, Energizer, and older Diehard batteries. Though one may assume that all these brands have the same quality, this assumption is inaccurate; each brand designs and sets different product specifications, resulting in varying performance levels. It is therefore recommended to read reviews and compare various options before deciding which battery best suits an individual's car or truck.
Where Are Motorcraft Batteries Made?
The Motorcraft brand of batteries is manufactured in plants across the United States and Mexico, meaning that it could have been made in either country when you purchase a Motorcraft battery.
Are Motorcraft Batteries Any Good?
Motorcraft batteries are well-known for their reliable performance, particularly in cold weather. Many customers have reported satisfaction with the product, and it is clear why this is a popular choice among vehicle owners.
However, it should also be noted that there have been some negative reviews about Motorcraft batteries like other brands on the market. Any battery can become faulty over time regardless of the technology used, so caution must be taken when purchasing one.
Fortunately, those with Ford cars or trucks need not worry; they can rest assured that they will receive a good quality product due to manufacturer recommendations.
About The Manufacturer
Since establishing Johnson Controls International in 1885, they have faced many challenges and obstacles. Despite this, they have managed to overcome them all and become successful, with 2.4 billion in net profit reported in 2018. The company was founded by Warren S. Johnson, who laid the foundation with his patented electric room thermostat, which kickstarted their journey into building technologies and solutions as well as other industries, such as battery manufacturing.
In 1978, a renowned battery manufacturer Globe-Union was acquired by Johnson Controls International, which allowed them to enter the industry of manufacturing batteries for light vehicles, commercial vehicles, trucks, and hybrid cars – bringing 25.5% of their total sales from these products alone, but unfortunately rendering it ineligible for Fortune 500 listing due to its non-American status. A study revealed that woman workers at these plants were losing fertility due to lead exposure; however, this case was ruled out when it concluded that it is a personal choice whether or not she should make a family or participate in economic improvement activities instead.
What Are The Types Of Motorcraft Batteries Available?
Using the latest battery technologies, motorcraft batteries are designed to perform best in Ford and Lincoln vehicles. The brand offers a range of products, from Dual-terminal to AGM, Tested Tough Max, Tested Tough Plus, and specialty batteries.
Additionally, these batteries boast various features that contribute to their long-lasting performance. For instance, the microprocessor-controlled welding technique welds intercell together for increased service life; while its heat-sealed container with polypropylene cover prevents leaks and gives high impact resistance. Moreover, grid alloy enhances the cycle life of the batteries, while negative grids and paste formulation prevent separator shorts and improve overall performance.
⚡️Other article: Who Makes Rural King Batteries
Where To Buy Motorcraft Batteries?
Those looking for Motorcraft batteries for their Ford or other vehicles can find trusted online platforms to buy them from. These include the brand's official website, Amazon, Walmart, Ford's website, O'Reilly Auto Parts, Sears, and Advance Auto Parts. On these sites, a wide selection of models is available, with reviews helping shoppers pick the right one for their car or truck.
What Are The Best Motorcraft Batteries?
Absorbent Glass Material (AGM) Motorcraft batteries are the leading choice for a reliable, high-quality power source. Designed to meet the demands of sophisticated electrical systems, these batteries come with advanced features that ensure optimal performance in any situation.
The EPDM dual seal vent prevents potential harm from entering within, while PowerFrame grid technology helps fight against corrosion. Additionally, proprietary and high-density positive and negative paste increases charge acceptance and better cycling performance to support even the most demanding applications. Finally, a thick AGM separator with a reinforced polypropylene case ensures safety throughout usage.
What Are Alternatives Of Motorcraft Batteries?
Motorcraft batteries have been a reliable power source, but other brands offer outstanding performance. Optima RedTop Batteries boast an 800 CCA rating and 100 minutes of reserve capacity, plus spill-proof technology and vibration resistance. With this type of battery, drivers can be confident in their vehicle's ability to handle rough roads.
Due to their high CCA ratings, ACDelco 94R AGM and XS Power D3400 are popular options for new car owners. While they may be more expensive than some alternatives, the quality is worth it; these products will ensure vehicles remain powered on even the coldest days in winter. DieHard and Odyssey are other reputable brands that offer excellent automotive batteries, which can easily be found online from retailers like Amazon.
Final Thoughts
It has been determined that Johnson Controls manufactures Motorcraft batteries. However, there have been some complaints concerning the quality of these products due to differences in their specifications compared to other popular brands. Nonetheless, those concerned with craftsmanship need not worry.